S4C looks at locating at three main sites around Wales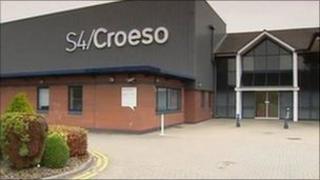 S4C is to carry out a feasibility study into moving to three sites across Wales rather than a main one in Cardiff.
The Welsh language TV station's chief executive Ian Jones confirmed that the idea, which was suggested at the National Eisteddfod, is being explored.
He said he was determined S4C's economic benefits should be shared across all Wales where possible.
In future, it could operate from a mid or west Wales site as well as in the north and south.
Mr Jones revealed the development in an article in the Daily Post to mark 30 years since S4C was established.
"S4C already does an enormous amount to ensure that the money we spend on programmes is spent in all areas of Wales," he said.
"Studies have shown that around 2,000 jobs are supported by what we do Wales-wide, but I'm determined to explore every opportunity to do more.
"Currently S4C has two sites - our headquarters in Llanishen in Cardiff and a much smaller office in Caernarfon.
"This arrangement works well, especially as two of our five programme commissioners are based in Caernarfon.
"So given that we know that we can operate successfully from more than one site, why not look at further decentralisation of our business?"
Mr Jones added that one of the biggest challenges communities throughout Wales faced was the lack of jobs and training opportunities.
He said: "If S4C can do more to provide more local employment opportunities in more areas, then I'm very interested in putting plans in place."
From April 2013, the majority of S4C's funding will be from the licence fee.
The BBC Trust and S4C Authority have drawn up a plan to ensure the editorial and managerial independence of S4C.