April Jones: Month on Machynlleth committed to finding girl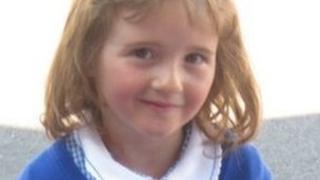 A town is as "committed as ever" to finding missing five-year-old April Jones, a month on from her disappearance.
April was last seen near her home in Machynlleth, Powys, on 1 October.
Mayor Gareth Jones said she was still in people thoughts and many were raising money for April's Fund which currently stands at more than £35,000.
Meanwhile, Carmarthenshire council's county hall will be bathed in pink later as the search for April goes on.
Machynlleth has been draped in pink since April's mother launched a ribbon appeal to support the search for her. Pink is said to be April's favourite colour.
Carmarthenshire council's headquarters was lit up at 19:00 GMT, the time she went missing in Machynlleth on 1 October.
The authority said a student from Aberystwyth, who is studying in Carmarthen, had appealed to the council to light the building in pink.
Meanwhile, Machynlleth mayor Gareth Jones said April was still in the town's thoughts four weeks after she disappeared.
"Today the word hope and April's favourite colour pink are what continue to bind our community together," he said.
"Machynlleth people are attempting to get their lives back to some type of normality, we have had to return to our day jobs following the awful upheaval of the first week or two, but that does not mean that April and her family are ever far from our thoughts."
He added: "A month on I know that Machynlleth people are as committed as ever we were to getting April home.
"Many are diverting their efforts to raising money for April's Fund, it will soon become a registered charity with independent trustees appointed."
Carmarthenshire council urged people to gather at county hall at 19:00 GMT on Monday and wear pink.
Carmarthenshire council leader Kevin Madge said: "We in Carmarthenshire feel quite helpless, but want to demonstrate openly that our thoughts and prayers are with April's family and the community of Machynlleth."
Rescue teams
An annual cultural festival went ahead in Machynlleth last weekend after organisers said they had considering cancelling.
But they learned April's parents wanted Eisteddfod Powys to go ahead.
Hundreds of people turned out last week to see a town clock lit up in pink to mark the third week.
Blackpool tower turned pink in support of April a week after she went missing.
Her disappearance prompted one of the biggest searches for a missing person in recent times, and involved hundreds of volunteers from the Machynlleth area, across Wales and parts of England.
Hundreds of trained search and rescue staff from the police, the fire service, mountain rescue teams and the coastguard have also been involved as the search continues.
Mark Bridger, 46, has been charged with abducting and murdering April, who was last seen near her home on 1 October.