Gwynfor Evans' S4C hunger strike threat immoral - Elis-Thomas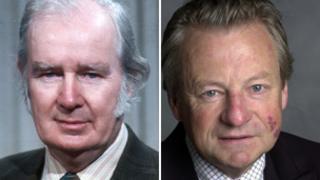 The threat by the late Plaid Cymru president Gwynfor Evans to go on hunger strike, which led to the foundation of S4C, has been described as immoral by one of his successors.
He made the threat in 1980 after the then-Conservative government's decision not to set up a Welsh language channel.
As S4C marks its 30th anniversary this week, Dafydd Elis-Thomas, who led Plaid in the 1980s, says Mr Evans's actions were a suicide threat.
Mr Evans died in 2005, aged 92.
He became Plaid's first MP in the 1966 Carmarthen by-election.
"I regarded at the time and regard even more so in hindsight... that this is really a kind of suicide threat," said Lord Elis-Thomas said.
"To use that as a political weapon - although there's a history of that in some liberation struggles - did create a massive diversion from a rational political debate.
"I don't think the government was worried about this. It wasn't a big issue for them."
In 2010, UK Culture Secretary Jeremy Hunt announced the BBC would take over funding for S4C until 2017.
It guarantees S4C's future funding fo about £75m per year and gives the BBC a voice in the channel's direction and in choosing the authority's members.