Mind Cymru mental health 'first aid' work courses rise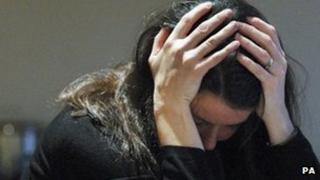 The number of people in Wales who have received training as mental health "first aiders" is expected to top 10,000 in the next few weeks.
The Welsh government is encouraging people to have the training offered by Mind Cymru so that they can spot warning signs of mental illnesses.
One of Wales' biggest firms, Airbus in Flintshire, has 60 mental health first aiders in its 6,000-strong workforce.
The company said it hoped to put 250 workers through the course.
Rules and regulations mean that first aiders and first aid kits are commonplace in the workplace.
But what about if someone's suffering from depression or anxiety? Would you know how to respond?
The Welsh government gives funding to a number of the courses, which last about 12 hours, run by Mind Cymru.
Airbus said the investment had had a big impact, with the number of staff taking sick leave due to emotional and mental health issues halving since the scheme was introduced.
Many staff at Aberystwyth University also say they have benefited from the skills which help them spot warning signs of mental health problems in students.
Ian Barr, a mental health first aid trainer at Airbus, said: "The skills we train are exactly the kind of skills we train in physical first aid - to recognise when somebody is in crisis - how to help them with that support at the time. But we also signpost them to further care if they need it.
"We look for anything abnormal. For example if somebody's normally chatty and then they become introvert. Or if somebody takes pride in their appearance but then doesn't.
"We've helped quite a large number of people over the years. And because we're, here most people who get help don't go off sick.
"With our support they actually want to stay in work and that helps them with social interaction. And that's important because work might be the only safe place they have."
Charlie Peters, a barmaid in Aberystwyth, said the training helped her understand the pressures people can feel themselves under in a way that can lead to depression.
She said: "The course really opened my eyes.
"Depression is a huge issue especially amongst students - you're away from home, you've got essays and deadlines, and you have to look after yourself for the first time.
"You've got to become independent really quite quickly - a lot of students do cope but a lot of them suffer.
"But there's lots of support out there if you know where to look.
"Sometimes people find it useful not to talk to an authority figure.
'Comforted by a friend'
"I'm a lowly barmaid. I think people feel comforted by that in that I'm a friend and somebody they can come and see."
Dr Rebecca Edwards, a lecturer in theatre, film and television studies at Aberystwyth University, said the course had given her the confidence to ask someone if there was something they want to talk about.
She said: "I don't feel any more that that's a no-go area if a student is suffering from stress anxiety or depression.
"I've also used the skills outside work with friends.
"I think the courses like this which raise awareness and give people a greater understanding can only be a good thing."