Sunbed salons in Cardiff flouting laws, investigation finds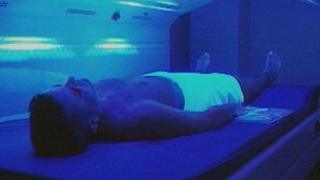 Many sunbed salons are flouting laws introduced a year ago to protect the public from the risks of skin cancer, a BBC Wales investigation has found.
BBC Wales' X-Ray programme sent a 14-year-old schoolgirl into every tanning salon it could find in Cardiff.
The girl was admitted to two-thirds and only five salons checked her age.
Under tough laws introduced last year salons are not only banned from admitting under-18s, but are also obliged to ask for ID.
Programme producers said footage obtained using hidden cameras showed many salons were also ignoring health regulations introduced last October.
Some salons did little more than provide change for customers to use in coin-operated machines.
Julie Barratt, of the Chartered Institute of Environmental Health, who has viewed X-Ray's footage, said: "Failing to actively check someone is over the age of 18 is a criminal offence.
"These results are quite worrying.
"It is a major safeguard that the user should be over the age of 18 to ensure that users make sensible decisions. Just to ignore that requirement is really very poor."
After viewing footage of one salon she said: "There is no way that is supervised, there is no advice been given there is no verification of age.
"Frankly, the operator of a business operating like that is just negligent."
Cardiff council officials said they were shocked by the results of the X-Ray investigation.
Sarah Smith, group leader at Trading Standards, said that the number of salons allowing entry to under-18s had risen since the council did a secret shopping exercise last year.
She promised to investigate X-Ray's findings and clamp down on offending salons. They said they would prosecute salons when appropriate.
X-Ray is broadcast on BBC One Wales at 19:30 GMT on Monday, 29 October.