April Jones: Machynlleth holds Eisteddfod Powys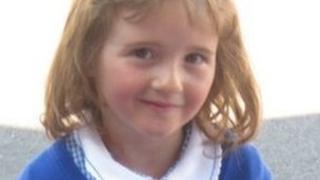 An annual cultural festival is going ahead in Machynlleth, almost a month after the disappearance of April Jones.
Eisteddfod Powys organisers said they had considered cancelling but continued after learning the five-year-old's parents wanted it to go ahead.
The two-day festival included a procession from St Peter's church to the community centre on Saturday.
Mark Bridger, 46, has been charged with abducting and murdering April, who was last seen near her home on 1 October.
The opening events of the eisteddfod, one of the largest regional events of its kind in Wales, were held at Y Tabernacl, a converted chapel which is now the museum of modern art.
The stage has been decorated with pink flowers in tribute to April.
Machynlleth has been draped in pink since April's mother launched a ribbon appeal to support the search for her.
A week after disappearance her parents released a sky lantern, while others in the town released pink balloons.
Hundreds of people turned out last Monday to see a town clock lit up in pink to mark the third week.
Michael Williams, a town and county councillor in Machynlleth, said April's parents and extended family were fully supportive of the eisteddfod going ahead.
He said: "The fortitude of April's parents and the extended family is of huge importance to the town.
"They want people, especially children and young people, to once again take part in something such as the eisteddfod which is a major part of Welsh cultural life.
"The mood has lightened somewhat since the superb lighting of the town clock this last Monday but people are still mindful of the enormity of what happened on 1 October.
"The display of pink ribbons, etc, had indeed brought a major focus for everybody, so that there is this huge togetherness of us all and that's why it's important the eisteddfod does go ahead."
On Saturday, runners in the Snowdonia marathon wore pink race numbers in support of April's family.
Her disappearance prompted one of the biggest searches for a missing person in recent times, and involved hundreds of volunteers from the Machynlleth area, across Wales and parts of England.
Hundreds of trained search and rescue staff from the police, the fire service, mountain rescue teams and the coastguard have also been involved as the search continues.