Poppy appeal song written by James Fox and Sir Tim Rice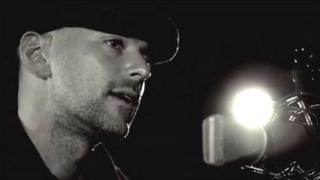 Singer-songwriter James Fox has collaborated with music royalty to pen a single for this year's Poppy Appeal.
Cardiff-born Fox co-wrote the song with Sir Tim Rice, which the Royal British Legion (RBL) hopes will top the charts in time for Remembrance Sunday.
Landlocked is said to be a hit already with British troops with all proceeds going towards the Poppy Appeal.
Fox, who has worked with the legion for 10 years said the song made some of the soldiers "teary".
"I was writing it with Peter Hobbs, a songwriter, and we were throwing a few lyrics around which were from the soldiers' perspective," he said.
"I pitched it to Tim Rice and then he worked on it."
Fox, 36, who now lives in London, has known Sir Tim for a number of years.
In 2004 the singer was playing Judas in Bill Kenwright's production of Jesus Christ Superstar, written by Sir Tim with Lord Lloyd-Webber.
Sir Tim, who has won a host of awards for his musicals, saw Fox in the role and recommended him for the lead role in the Billy Joel musical on Broadway.
"He recommended me on the Friday and by Monday I was in the show," said Fox.
The pair kept in touch and following a decade of entertaining the troops in Iraq, Afghanistan and Kosovo, the idea for the Poppy Appeal single came about.
"We got together for some final tweaking and it was done.
"We've played it to the troops and you could've heard a pin drop. Some were a bit teary and said it was 'one for the girls'," he jokes.
"All the proceeds go the Poppy Appeal and we really just want to raise as much money as possible."
The Royal British Legion said it spends £1.7m a week on care and support for military families, including grants, employment advice and funding, emotional support, tribunal and inquest advice, care homes and family breaks.
Former Fame Academy contestant Fox is currently playing Sir Paul McCartney in the production of Let It Be at the Prince of Wales Theatre in London's West End.
He previously represented the United Kingdom in the 2004 Eurovision Song Contest and in 2008 recorded Cardiff City's official FA Cup Final song.