Cardiff expansion: Growth plan will bring jobs to city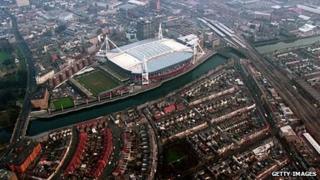 The largest expansion of Cardiff in more than half a century will bring jobs to the Welsh capital, the city council's deputy leader says.
More than 45,000 new homes could be built by 2026 which would see Cardiff's population predicted to top 400,000.
The blueprint also sets out investment in public transport after a warning traffic will rise by a third, increasing journey times by 40%.
Ralph Cook says Cardiff is the "economic dynamo" for the region.
"This is about jobs, this is about homes," he told BBC Radio Wales.
"The people who will benefit are the people who live or want to live in Cardiff and those people who need jobs.
"Cardiff is the economic dynamo for the region and this is where developers, this is where the financial services, this is where the jobs are.
"If Cardiff is going to supply the jobs the region needs, this is where they're going to come."
He added: "If we are going to lead Wales of of a recession, work has to come to Cardiff."
The proposals are in Cardiff council's draft Local Development Plan (LDP) preferred strategy which were approved by members of the Labour-led authority on Thursday despite some opposition from the other parties.
It outlines sites to build major housing and employment developments, and they include greenfield as well as brownfield locations.
The biggest single proposal is for 7,500 homes in a new suburb west of Pentrebane and about 6,000 and 2,000 earmarked either side of Pontprennau.
A further 2,000 homes could be built on land north of junction 33 on the M4.
The LDP states that about 40,000 jobs are planned by 2026 - a rise of 20%. The financial and business services are expecting a huge boost with 55% new jobs.
By then it is expected the capital's population could be as high as 408,000, a rise of 26%, according to the report.
A significant proportion of those arrivals are expected to come from neighbouring areas in south east Wales.
Cardiff has about a quarter of the entire population of south east Wales but it provides around a third of the jobs.
The plan proposes investment in public transport - particularly new bus lanes - to tackle an expected increase in traffic congestion and journey times.