Wales Drama Award: Katherine Chandler is first winner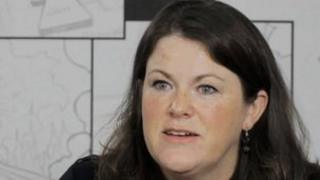 The winner of the first drama writing award by BBC Cymru Wales and National Theatre Wales (NTW) has been announced.
Katherine Chandler, from Penarth, beat nearly 250 other Wales-based writers to the £10,000 prize.
She can now develop her winning script Parallel Lines, or another piece, with the BBC or NTW.
Runners-up Paul Jenkins, from Newport, and Ralph Bolland, from Crossgates, receive £1,000 and the opportunity to develop their ideas.
The Wales Drama Award is a collaboration between the two institutions, in close partnership with BBC Writersroom.
Judges included former Doctor Who head writer Russell T Davies and Abi Morgan, who scripted the 1950s drama The Hour.
'Champion new talent'
Three other writers - Rachel McAdam from Llandysul, Tracy Spottiswoode from Cardiff, and Lucy Gough from Aberystwyth - were shortlisted for the award. Performances based on excerpts from all six writers' work took place at the BBC Cymru Wales Roath Lock studios as part of the award ceremony.
Actors Matthew Trevannion, Nia Roberts, Lisa Palfrey, Harry Ferrier and Remy Beasley performed the works, and Faith Penhale, the head of drama at BBC Cymru Wales and a member of the judging panel, presented the award.
Rhodri Talfan Davies, director of BBC Cymru Wales, said: "We set out to create a unique platform for new writers based in Wales, and the response has been phenomenal.
"I think BBC Cymru Wales and National Theatre Wales both share a determination to champion new talent - and I'm convinced this new award will help us to find and nurture bold, original writers with the potential to make an indelible impact on stage or screen in the years to come."
Attention
Faith Penhale said: "The Wales Drama Award not only celebrates, but nurtures new talent providing support to up and coming writers in an industry that is often hard to break into.
"Katherine and all of the writers shortlisted prove why we have every reason to be excited for the future of drama in Wales."
John McGrath, artistic director of National Theatre Wales and a fellow judge said: "This is a really exciting time for writing and for writers in Wales; I hope the award will focus the widest possible attention on the great things writers are doing here.
"Everyone at National Theatre Wales is thrilled for Katherine, and we look forward to many more collaborations with BBC Cymru Wales Drama and BBC Writersroom."
Details of the second Wales Drama Award will be announced in early 2014.