Welsh hospital bed numbers fall by 1,000 in three years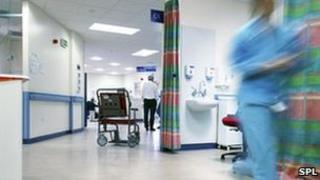 The number of beds in Welsh hospitals has fallen by more than 1,000 (8%) in three years, BBC Wales has discovered.
Statistics from Welsh health boards after Freedom of Information requests also reveal that many hospitals are routinely overcrowded.
Bed occupancy is recommended not to exceed 82% to allow for contingencies and cleaning to control infections.
The Welsh government says the quality of NHS care should be judged on a wider range of factors than just bed numbers.
Overcrowding can also lead to operations being cancelled because of a lack of spare capacity.
Between April and July this year bed occupancy rates at all seven Welsh health boards were regularly higher than 82% - a level which the Royal College of Surgeons says should not be exceeded.
But while occupancy rates are high the statistics show a reduction of more than 1,000 beds across the seven Welsh health boards in the three years since 2009.
The Royal College of Nursing in Wales says the figures emphasise that nurses in Wales are working under "immense pressure".
It says the situation can lead to staff feeling "demoralised" in not having enough time to deliver care to the quality and standard they would want.
The Welsh Conservatives point to a "worrying trend in dangerous overcrowding" and say proposals by health boards to reorganise NHS services will lead to further bed reductions and even higher occupancy rates.
The highest bed occupancy rates were recorded at Cardiff and Vale University Health Board which ranged between 87.27% - 91.05% between April and July this year.
Cwm Taf Health Board has the lowest rates of 77% - 82% during the same period.
Aneurin Bevan Health Board recorded rates of 87.54% - 89.75%, Abertawe Bro Morgannwg Health Board 86.04%-87.54%.
Betsi Cadwaladr Health Board had an average bed occupancy rate of 85.53% during the quarter.
The statistics also reveal that the total number of beds across the seven health boards have decreased from 12,612 beds in 2009-10 to 11,597 in 2011-12.
This represents a 8% decrease in the number of beds over three years.
Cwm Taf Health Board recorded the biggest proportionate reduction in beds with 13% fewer in 2011-12 compared to 2009-10.
'Dangerous' overcrowding
Peter Meredith-Smith, associate director for employment relations at the Royal College of Nursing, said: "The statistics emphasise the immense pressure staff are experiencing.
"Being put in that position, they're not having enough time to deliver care to the standard and quality they would expect which is demoralising for them.
"It's not very encouraging heading into winter when pressures on the NHS are traditionally higher to see those occupancy rates during the summer months."
The Conservatives' health spokesman Darran Millar said the figures suggested a worrying trend in dangerous overcrowding.
"How can frontline staff be expected to do their jobs properly when they're under this kind of pressure?" he added.
"Thanks to Labour's record-breaking budget cuts, the Welsh NHS has the worst funding settlement in the UK, while reorganisation plans are proposing further bed reductions. That will only see occupancy rates rise.
"This is an on-going problem that will be particularly distressing for the vulnerable and the elderly, whose care and independence could be put at risk.
"The minister has ultimate responsibility for what health boards do and she should be working with them to minimise overcrowding."
A Welsh government spokesperson said there were no official targets rates for bed occupancy, but health boards had to operate at "safe and efficient levels".
The spokesperson added that the quality of NHS care depended on a wider range of factors.
"Nobody wants to be in hospital longer than they need to be.
"Our vision for the NHS is that it will be there for people when they need it, providing modern services, focused on preventing ill health, closer to people's homes.
"This means moving away from using the number of hospital beds as a yardstick, focusing on how we can keep people out of hospital, and providing greater integration of health and social care. It is appropriate therefore that hospital bed numbers are reducing gradually.
"The care the NHS provides should also be judged on more than just bed numbers."