Cardiff hit-and-runs: Hugh Grant's £5,000 to help family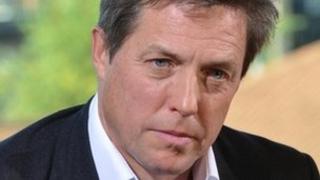 Actors Hugh Grant, Sir Ian McKellen and Frances Barber have helped raise £5,000 for the children of a woman killed in a series of hit-and-runs in Cardiff.
Karina Menzies, 31, died and 13 adults and children were injured in collisions across west Cardiff last Friday.
Grant bid to win a lunch with Sir Ian and Barber at a Labour Party fundraising dinner. A Cardiff City FC collection has also raised over £4,000.
A man has appeared in court accused of murder, attempted murder and assault.
Ms Menzies died after being hit by a van while walking with two of her young daughters near Ely fire station on Cowbridge Road West.
Since then, the local community has been raising money to help her three children.
At the event in London on Wednesday night, Cardiff West MP Kevin Brennan asked Sir Ian if he could support the appeal.
The Shakespearean actor, whose film roles include Lord of the Rings and X-Men, offered an auction prize of lunch for six with himself and Frances Barber - recently seen in the BBC's Silk and Doctor Who - at his London pub, The Grapes in Limehouse.
It raised £5,000 for the fund after Grant, whose films include Notting Hill and About a Boy, joined another bidder to win the lunch.
Mr Brennan said he "grabbed a spot" at the auction at a dinner, which had been organised by Rhondda MP Chris Bryant to raise money for apprentices.
"I was overwhelmed by the kindness of Sir Ian's offer and by the very generous bid from Hugh Grant," he said.
"This £5,000 will be a major boost to the funds that have already been raised by local people in Cardiff."
Otis Williams, Ms Menzies's friend who is helping to run the fund, said he was "amazed" by the money raised.
"That's just unbelievable," he said. "It's getting better and better."
He said he had been told that a collection at Cardiff City's football game against Watford on Tuesday had also raised £4,150.
"It's amazing how much people are willing to help out. Everyone is pulling together," he added.
Mr Williams said he had visited Ms Menzies's three daughters, who are being cared for by her sister, and they are "recovering well".
"This money will really help as it's now they need the money," he added.
Matthew Tvrdon, 31, faces a total of 19 charges, including murder, 13 counts of attempted murder, four counts of assault occasioning actual bodily harm, and one charge of dangerous driving. He appeared at Newport Crown Court via video link on Tuesday and was remanded in custody to appear at crown court for a plea hearing on 28 January.