April Jones search intensity continues around Machynlleth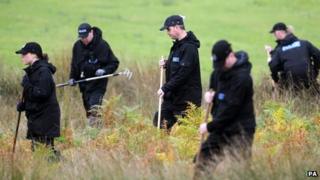 Police say the intensity of the search for missing five-year-old April Jones is continuing with 150 specialist officers involved.
Seventeen teams are scouring a 60sq km (23sq miles) area around Machynlleth, the Powys town where April went missing almost a month ago.
Insp Gareth Thomas, a police search adviser, said the search would continue while there were leads to follow.
Mark Bridger, 46, has been charged with abducting and murdering April.
He is also accused of unlawfully disposing of and concealing her body with intent to pervert the course of justice.
April was last seen playing in a street near her home on 1 October.
Teams of officers have been searching for her every day since in difficult terrain around Machynlleth.
There are more than 300 specific search areas and some can take many days to search because of the difficult terrain.
Insp Thomas said: "It's incredibly difficult. We've got large open areas, caves, quarries, steep-sided valleys, heavy dense forestry.
"We've got 17 police search teams here this morning [Thursday] - the intensity of the search continues.
"Actually, we've got more search officers now than when the search started."
He said areas were searched "systematically and methodically" to ensure a "high level of confidence in the search in that area".
Police are helped by specialist officers from Mid and West Wales Fire and Rescue Service who are trained to work in confined spaces and have rope access teams.
There are also police divers, search dogs and air support.
"Everybody is really dedicated and motivated in finding April and while we still have intelligence leads to search, we will continue," he said.
'Black cloud'
April's disappearance continues to dominate the thoughts of the community.
The Reverend Kathleen Rogers, priest-in-charge at St Peter's Parish Church in Machynlleth, said there was still a "black cloud" over the town.
"People have got to go back to work but every morning people wake up and think 'perhaps today we will find her'," she said.
"Every night before we go to bed we think 'oh dear, we didn't find her today'."
Sweet shop owner Alison Jones said April's family were regular customers at her premises.
"They're just going from day to day. I think it's extremely hard. I can't imagine - I just know how I feel," she said.
"Each day is such an emptiness I'm sure and I know they're trying very hard to keep their spirits up."
Organisers of Powys eisteddfod had planned to cancel the event following April's disappearance but her family said they wanted it to go ahead.
Organising committee chairman John Price said: "I think it's very noble of them to want things to go back to normal because the whole town feels for them as well."