Yacht is rescued in high winds off Anglesey coast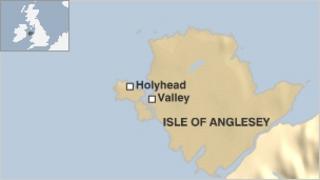 Rescue teams spent the night assisting a 24-foot yacht with one sailor on board after it ran into difficulty in gale-force winds off Anglesey.
The Moondance issued a mayday from 15 miles northwest of Holyhead at 22:30 BST on Wednesday.
The ferry Stena Adventurer provided shelter as a helicopter from RAF Valley and a lifeboat were sent to help.
In a force eight gale, the vessel was towed into Holyhead where started to sink at 05:30 BST, said the coastguard.
The Holyhead inshore lifeboat then went to help and the yacht was placed on a slipway where it eventually sunk.
The yachtsman, who was en route to the Canary Isles, was earlier taken onto the lifeboat for his safety.