Fariman Saleh and family deported from Cardiff to Egypt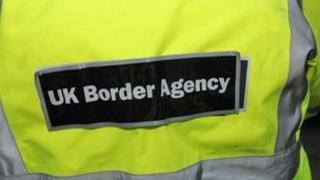 An Egyptian family living in Cardiff have been forced to leave the country after losing a deportation battle.
Fariman Saleh and her two teenage children are understood to have left on a flight to Egypt at about 08:00 BST on Wednesday.
The family lived in Cardiff for five years but were taken in an early-morning raid at their property on the Gabalfa estate last week.
The UK Border Agency said it only uses an "ensured return" as a last resort.
Campaigners say Ms Saleh and her children arrived in Britain from Egypt and she has had an on-going asylum case over fears of domestic abuse.
They say they are a well-respected family and have strong links with the local community in Cardiff.
Llandaff North councillor Siobhan Corria said she understood there had been a five-hour blockade of the bus carrying the family out of the detention centre but "it wasn't enough".
'Every chance'
Julie Morgan, Cardiff North AM, says she was "very surprised" the Border Agency (UKBA) deported the family as Jonathan Evans, MP for Cardiff North, wrote to the Home Secretary and Immigration Minister appealing for a delay for further submissions to be made on behalf of the family.
Ms Morgan said: "They've been here five years, formative years for the children who are now young adults; the elder daughter is still here, they're established here as a family and there was a further hearing set for November."
Mr Evans said he received a response from Immigration Minister Mark Harper on Tuesday afternoon concluding there was no fresh information or "compassionate circumstances" to justify any exceptional treatment.
A UKBA spokesperson said: "The family was given every chance to leave the country voluntarily.
"This included family conferences over a period of time, a tailored voluntary return package to assist them on their return and the opportunity for self check-in to fly home.
"Unfortunately, when families refuse to take up these opportunities and stay here illegally our last resort is an ensured return."