Reginald Davies guilty of child rape from 1949-73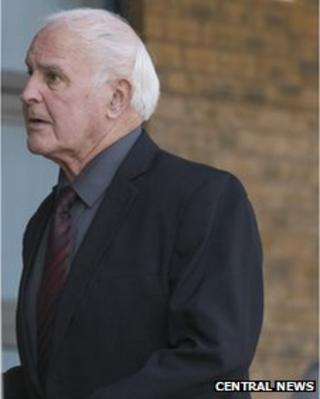 A former serviceman and miner has been found guilty of sexually assaulting four young girls in what is believed to be one of the oldest criminal cases in UK legal history.
Reginald Davies, 78, committed the offences between 1949 and 1973 in south Wales.
He was convicted at Kingston Crown Court of 13 offences, including rape, over the 24-year period.
The pensioner was arrested last July in Australia.
Two of his victims broke down in tears as the verdict was read out.
'Relied on fear'
During the trial, prosecutor Hanna Llewellyn-Waters said Davies "preyed on the innocence" of the four girls, leaving them to carry the burden for the rest of their lives.
"You relied on their fear that they would not be believed and told them that they would be taken away from everything they loved," she added.
The former miner, who was extradited from Western Australia in September last year, told the court that the four women - who cannot be named for legal reasons - were in "collusion" and lying.
The pensioner had been arrested last July at his adopted home of Wanneroo after the allegations were reported in the UK in 2008.
He served with the Royal Engineers and the Royal Dragoons before leaving the Army in 1957.
Davies was found guilty of two charges of child rape, two charges of attempted rape, eight counts of indecent assault and one count of indecency with a child.
He was cleared of one charge of child rape and one charge of attempted rape.
Judge Susan Tapping told him he faced a "substantial sentence".
Davies, who has been living in Hertfordshire since his extradition, was remanded in custody and will be sentenced on Friday.
Hilary Ryan, senior Crown Prosecution Service (CPS) lawyer, said after the hearing: "This is one of the oldest cases of historic sexual abuse and rape ever prosecuted by the CPS, dating back to 1949.
"I hope this conviction serves as an important message to people who have been the victim of crimes such as these that they should come forward regardless of when the offence occurred."