Bank of England chiefs come to Wales to check economy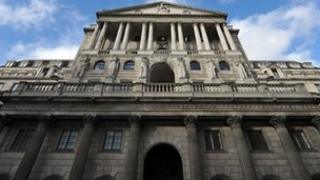 The governor of the Bank of England and members of its influential monetary policy committee (MPC) are beginning a two-day visit to Wales.
It is the first time in 11 the nine-man team led by Sir Mervyn King has visited Wales as a group.
The visit is an opportunity to take the temperature of the Welsh economy.
It comes just 48 hours before statistics are released which will determine whether or not the UK is formally out of recession.
The Office for National Statistics will publish its preliminary third quarter figures on UK gross domestic product (GDP) on Thursday.
The Bank of England says the members of the MPC are in Wales to listen to how businesses are faring and how the ups and downs of the economy are affecting life on the ground.
For two days the committee members will tour companies large and small right across the country.
What they hear from businesses will help to inform their future decisions such as whether to alter interest rates or whether to pump more money into our fragile economy.
Whether Welsh companies are optimistic or not about the path ahead for the UK economy depends in some part on which sector they are in.
Rhys Jones, managing director of Hobbs Valves in Caerphilly, is one of the business leaders due to meet members of the MPC.
The company, which supplies the oil, gas, nuclear and defence industries, recently expanded its workforce from 25 to 40 people and is moving into larger premises.
Mr Jones says there is a lot of optimism.
"We are taking contracting all over the world and we hope for 75% growth next year," he said.
"What we are hearing at the moment is a lot of negativity in the market, but economically I think there is a lot of growth going on and organisations seem to be moving forward," he added.
"Some organisations - depending on the industry sectors that they're in - are not necessarily seeing the same amount of growth and therefore don't necessarily have the confidence to take their business forward and expand and invest in their business at the moment."
Sir Mervyn is due to make a keynote speech at the Wales Millennium Centre in Cardiff on Tuesday evening.