Cardiff hit-and-runs: Ely unites for Karina Menzies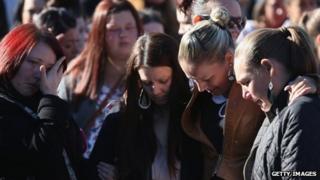 It was a community in shock and in mourning after a series of hit-and-runs on Friday left a local mother dead and 13 others injured.
But on a sunny Sunday afternoon, the sombre mood in Ely, Cardiff, was momentarily lifted as the local community united to support each other.
Hundreds of people - both young and old - gathered at the local fire station, close to where 31-year-old Karina Menzies was killed by a van.
They wanted to pay their respects to the popular young mother at an informal tribute event put on by her friends.
While many in the crowd were in tears, an uplifting song dedicated to Ms Menzies - Tarrus Riley's She's Royal - boomed out of loudspeakers.
With lyrics like "She has the qualities of a queen, so supreme", it was a song that event organiser Otis Williams said was fitting for his friend.
Ms Menzies was hit by a van as she walked along Cowbridge Road West with two of her daughters aged 23 months and eight, who were both injured.
The vehicle injured a further 11 people in Ely and Leckwith during a horrifying 30 minutes on Friday afternoon.
"I wanted people to remember Karina and I wanted her to be remembered for saving her kids," said Mr Williams.
"I thought it would be good to do something positive. Karina was a popular lady. There are so many people here and it's an amazing support."
This was the community doing what it does best - joining together to provide comfort, solace and unity.
Kelly Miller, 32, whose mother runs the local Caerau Arms pub, said it was "typical" of Ely.
"I lost a friend 18 years ago who was run over. And it was the same then - we got together and campaigned for speed bumps.
"This event is important, it brings the community together. Everyone's in shock and a lot of people are angry.
"It is good to do something positive"
Friends, neighbours and those who did not know Ms Menzies but wanted to pay their respects, converged at the fire station at 14:00 BST on Sunday.
Many arrived with flowers, adding them to the growing pile of floral tributes, candles and cuddly toys now on the pavement.
Five-year-old Michala laid a bouquet after arriving at the event with her grandmother Sherrie Dudley, 49.
"We came to show our support and it's important to bring the kids to this. Children were involved in this too and some children saw it," said Ms Dudley.
"It traumatises them. Adults support themselves through one another. But no-one knows what's going though a child's mind."
After listening to the song being played, a minute's silence was held.
Ms Menzies's friends also spoke to thank the community for their support and to remember those injured in hospital, while a collection was held for the victims.
After the tribute was over, the crowd milled around, some reading the messages on the tributes and others chatting quietly.
"It's horrible, it hasn't sunk in yet," said Gareth Hamber, 28, from Ely.
"I knew Karina - I used to see her every day walking with the kids."
"I just wanted to come here and pay my respects."
While Charlotte Lane, 20, also from Ely, added: "It's devastating for the family. I can't imagine what they're going though.
"I hope this will help them and show they're not on their own and everyone's here to support them."
Later, at a special service at the Church of the Resurrection on the estate the Reverend Jan Gould said many might be bewildered and angry by Friday's events or even want revenge.
"But that path only leads to more bitterness and unhappiness," she said.
Prayers were said for the medical teams and emergency services who helped the injured, as well as those left traumatised.
"We will recover and the reason we will recover is this is a strong community, and it's a community that cares and looks out for people that are vulnerable and broken," she added.