Cardiff hit-and-runs: Brother pays tribute to Karina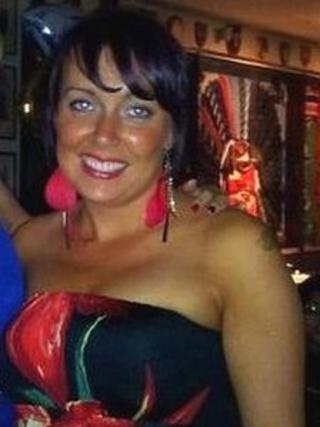 The brother of Karina Menzies, who was killed during the Cardiff hit-and-runs, has said she "saved the lives" of her two children.
The 32-year-old died and 13 other people were struck by a van in the city over a 30-minute period on Friday.
Ms Menzies's family has paid tribute to her, saying she "lived for her kids".
Meanwhile, hundreds have gathered for a tribute to Ms Menzies close to the spot where she was killed in the Ely suburb of the city.
Some of those attending were in tears as a song was dedicated to her followed by a minute's silence.
It was also announced that trust funds would be set up for victims of the incident which brought chaos to Cardiff's streets.
A special service will be held later at the Church of the Resurrection in Ely.
A 31-year-old man is being questioned on suspicion of murder and nine people remain in hospital, including two adults in intensive care.
Police have now formally named Ms Menzies as the hit-and-run victim and her family released a statement, describing her as a "lovely girl".
"She lived for her kids and her brothers and sisters and everything she did was for her family," the family said.
"She was a good friend to everyone and was well thought of in the community. She will be sorely missed by everyone."
Ms Menzies' brother, Craig, told BBC Radio 5 Live what he had learned about the incident, saying his sister had apparently screamed and thrown her children out of the way. He added: "She's saved their lives, basically."
Mr Menzies said his sister was "loved and respected by so many people" and he added: "It's a total waste of a life."
"She was the world to me. She was my sister, she was my best friend, she was my back up - you could turn to Karina with anything," he said.
"She was a lively, bubbly person, she was on a level. There were so many good things you could say about her.
"We will be lost without her. It just won't be the same. It's like a part of me missing."
Ms Menzies's eldest child, who is 10, is on a "dream holiday" in Florida and Mr Menzies said: "She don't even know yet, and she ain't gonna know until she gets back, we've decided as a family, you know, just let her enjoy her holiday and we'll have to break it to her then."
Otis Williams, a friend of Ms Menzies, said he had visited her children in hospital.
He said the 23-month-old had a fractured pelvis and broken legs, and the eight-year-old had a serious head injury.
The service is expected to include an address from local MP Kevin Brennan and candle lighting.
The Reverend Jan Gould, who will lead Sunday's service, which starts at 17:00 BST, said: "This will be an opportunity for the whole community to come together, share their grief and find support.
"People here are numb at the moment and in shock - it's like a state of carnage.
"Fortunately, despite its problems, Ely is a very close-knit community and people here are wonderful at pulling together and supporting each other.
"They always turn to the church in times of trouble and we are here to help, however we can."
The parish said its bereavement team would offer guidance and pastoral care for people who needed support.
The Archbishop of Wales, Dr Barry Morgan, has also said his thoughts and prayers are with the families of those affected.
"A tragic incident like this shows how fragile life is and how vulnerable we all are," he said.
The Most Rev George Stack, the Archbishop of Cardiff, said he was "shocked and saddened" by the incident.
The van's two-mile journey came to the police's attention at around 15:30 BST on Friday when there were reports of an incident at Crossways Road in Ely.
There were chaotic scenes around the city as it soon became clear many other people had been injured elsewhere.
Many were women and children returning home from school.
Police revealed on Saturday that people were also assaulted outside the van, possibly with a weapon.
And they want anyone who saw a black Renault Clio being driven on the wrong side of Western Avenue, near the Tesco Extra store, at around 15:25 BST on Friday to get in touch.
Meanwhile, the Welsh Blood Service said its emergency clinics held since the incidents were full, but appealed for regular donors to continue coming forward to give blood.
"We've had incredible support from the public but stocks were low before this terrible incident," said Tracy Sampson, of the service.
"As a service, it will take a while to replenish our stocks.
"We set up emergency clinics which are fully booked but we would like to appeal to regular donors to attend their regular sessions."
In Ely, candles and flowers continue to be left at the scene of the collision that killed Ms Menzies.
Many were from people who knew the dead woman and they expressed shock about what had happened on their doorstep.
Cardiff City players wore black armbands during their Championship game at Nottingham Forest on Saturday afternoon as a mark of respect.
South Wales Police are asking for anyone with information to contact 0800 096 0095.