Young Henry VIII revealed at National Library of Wales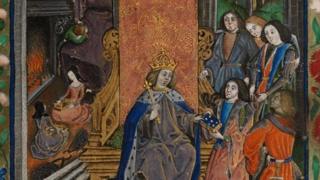 A long lost "royal treasure" with one of the earliest paintings of Henry VIII has been discovered at the National Library of Wales.
The manuscript was donated to the Aberystwyth library in 1921, but officials say they have only just realised its true significance.
One of its 34 pictures is believed to show 11-year-old Henry weeping at the empty bed of his mother, Elizabeth.
The library said the manuscript could be worth more than £1m.
Bound in wooden boards and covered with crimson velvet, the manuscript contains a late 15th Century passional - a book recounting the sufferings of saints and martyrs - depicting Jesus Christ's last days on earth through a series of images and text, written in medieval French.
It also has the poem Le Miroir de la Mort (The Mirror of Death) by Georges Chastellain.
It is believed the manuscript was presented to Henry VII, Henry's father, after the death of his wife Elizabeth of York.
One of the pictures shows Henry VII receiving the manuscript, while in the corner a young Henry is seen with his head down on what experts believe is his mother's bed.
Dr Maredudd ap Huw, the library's manuscripts librarian, has been re-interpreting the clues in the manuscript and concludes that it is a long-lost treasure from the royal library of Henry VII.
"The manuscript contains an illumination showing the presentation of a volume to a monarch.
"Two girls wearing black head-dresses are shown in the background, together with a young boy weeping at a black-draped bed.
"Preliminary investigations suggest that these background figures may be the 13-year-old Princess Margaret, later wife of James IV of Scotland, seven-year-old Princess Mary, later wife of Louis XII of France, and 11-year-old Prince Henry, shortly after the death of their mother in February 1503."
Dr ap Huw added: "We know from other sources that Henry VIII had a cold relationship with his father, but was very close to his mother.
"We know that the young Henry was devastated by the death of his mother.
"This is probably one of the most vulnerable depictions of Henry. It has him in mourning and is different to the later images of him as a swaggering warrior king."
'Royal treasure'
The manuscript was donated to the library by philanthropists Gwendoline and Margaret Davies of Gregynog Hall, near Newtown, Powys.
It was originally owned by Lady Joan Guildford, who served in the household of Elizabeth of York and acted as governess to the royal princesses Margaret and Mary Tudor.
It is believed to have later travelled to Wales by descent in the possession of the Wynnes of Peniarth in Gwynedd, who also owned significant Welsh texts such as the Black Book of Carmarthen.
"What was an ordinary passional from the late 15th Century has turned out to be a royal treasure," Dr ap Huw said.
"Its value has increased significantly and could be worth well over £1m because we have found this royal link."
The manuscript was rediscovered when it was digitised so it could be viewed on the internet.