John Cooper applies to appeal over Pembrokeshire double murders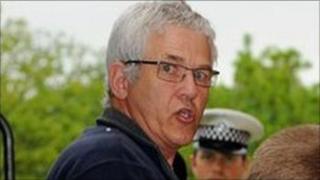 A labourer jailed for life earlier this year for two double murders in Pembrokeshire in the 1980s has applied to appeal against his conviction.
John Cooper was convicted of the 1985 murder of brother and sister Richard and Helen Thomas, and Oxfordshire couple Peter and Gwenda Dixon in 1989.
The 66-year-old from Letterston, Pembrokeshire was jailed in May.
The Lord Chief Justice Lord Judge said he will reserve judgement on the appeal application until 31 October.
Cooper was also convicted of separate charges of rape, sexual assault and attempted robbery after an eight-week trial at Swansea Crown Court.
The trial judge called the murders "evil".
Mr Justice John Griffith Williams said Cooper was "a very dangerous man, highly predatory who, but for advances in forensic science, may well have continued to evade capture."
The court was previously told that Cooper shot the Thomases at their remote mansion near Milford Haven, Pembrokeshire.
The jury heard that on the evening of 22 December 1985, Cooper targeted their three-storey farmhouse at Scoveston Park, possibly knowing Mrs Thomas, 54, was home alone.
Disturbed by the return of her 58-year-old brother, it was claimed the defendant shot them both before pouring diesel around the house and setting fire to it.
Three and a half years later, on 29 June 1989, Mr and Mrs Dixon were shot at close range while taking a walk along the Pembrokeshire coastal path near Little Haven before returning to their Witney home.
The court heard Cooper intercepted the couple in daylight, took them to a nearby hideaway and demanded details about their bank cards.
Again using a shotgun, it was claimed Cooper "silenced them forever".