National Museum of Wales buys Margam House paintings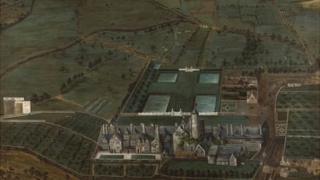 Two panoramic 18th Century paintings of one of the great former houses of Wales have gone on show at the National Museum Cardiff for the first time.
The museum bought the paintings of the now disappeared Tudor Margam House for £218,500.
The paintings are the Welsh museum's first early estate works and they show a landscape now transformed by the M4 and the Port Talbot steelworks.
They illustrate the dramatic changes over the last 300 years.
The paintings entitled View of Margam House, Glamorgan, looking South and View of Margam House, Glamorgan, looking North - were bought with the help of a £142,300 grant from the Heritage Lottery Fund (HLF) and support from the Art Fund.
Both works are tentatively attributed to an artist called Thomas Smith who died in 1718, but little more is known about him.
They are the only substantial records of the house owned by the Mansel family, which was, according to the museum, the most important gentry family in Tudor and Stuart Glamorgan.
'Accessible addition'
The estate was converted from the buildings of a Cistercian monastery and demolished a century later.
As well as the architecture of the house and the plan of its elaborate baroque gardens, the paintings record the deer in the park, the nearby village, passing travellers on horse and foot, coastal shipping in the Bristol Channel, all set within a prosperous and well-ordered agricultural landscape.
Oliver Fairclough, Keeper of Art at National Museum Wales, said the paintings provided an exceptional opportunity to engage with local audiences.
"Until now, there were no early 'estate paintings' in the National Museum's collection and we hope that these two will be a very popular and accessible addition.
"The paintings will be used for both formal and informal learning. In particular, they will be used by schools and community groups in Neath Port Talbot to study the changes that have taken place in the area during the last 300 years."
'Wonderful paintings'
The paintings will be exhibited in the museum alongside a portrait of the builder of Margam house, Sir Thomas Mansel with his wife Jane, dating from the 1620s.
National Museum Wales said it is also committed to exhibiting the paintings across Wales.
HLF's backing will also help run a programme of activities for the public to learn about the artworks' significance.
Carys Howell, HLF Committee Member for Wales, said: "The house has a fascinating past and through these paintings visitors will be inspired to find out more about the building's story, see how it looked in the 18th Century and imagine what life was like for the people who lived there."
Stephen Deuchar, Art Fund Director added: "Bringing these wonderful paintings into the collection of National Museum Wales gives us all the opportunity to step back in time and witness an historic landscape that has dramatically altered over the last 100 years."