Environment Agency Wales issues coastal flood warnings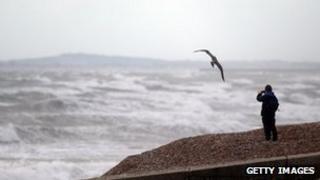 Gale force winds and high tides along parts of the coastline could lead to flooding on Wednesday, Environment Agency Wales (EAW) has warned.
The western and southern coasts of Wales are likely to experience severe gale force winds.
There are currently nine flood warnings and ten flood alerts in place around the Welsh coastline.
EAW warned people to be careful driving or walking near the coast over the next few days.
Flood warnings for tidal areas in Cardigan, Fishguard, Dale, Haverfordwest, Carmarthen and Carmarthen Bay Holiday Park and, in south east Wales, the Wye estuary have been issued, meaning floods are expected.
Alerts, which mean floods are possible, are also in place in north Wales for the Llyn peninsula, the Dee estuary to the east coast of Anglesey, Cardigan Bay and the west Anglesey coastline.
In mid and south west Wales there are warnings in place for coastal areas in Ceredigion, Pembrokeshire, Carmarthenshire, Swansea Bay and Gower.
The stretch of coastline from Aberthaw in the Vale of Glamorgan to the Severn Bridge, and the Usk and Wye estuaries in south east Wales are also subject to flood alerts.
Low-lying coastal roads, farmland and isolated houses could be vulnerable to flooding, but the agency warned of the possibility of more significant problems.
Gale force
The Met Office said winds were expected to increase to "gale or severe gale force" on exposed parts of the coast, which could lead to localised disruption to transport.
EAW said its teams had been out checking flood defences and closing tidal gates ahead of the high tides.
It said people should be particularly careful on exposed areas, where there is a risk of being swept away by waves or being hit by debris thrown up by waves.
BBC Wales weather presenter Behnaz Akhgar said the main area of concern was the Severn estuary.
"An area of low pressure is bringing very strong winds from the south west," she said.
"The winds touching gale force at times especially along the south and west coast where you are closer to the area of low pressure."
"Combine that with the high tides and there is possibility of coastal flooding."
She said the winds were expected to ease on Thursday with the weather improving towards the weekend.