Severn Bridges toll cut hopes dashed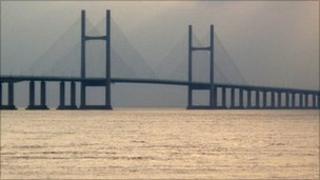 Hopes that tolls on the Severn Bridges will be reduced in 2018 when the current private contract runs out appear to have been dashed.
Transport Minister Stephen Hammond said he believed there would be no drop in price due to repair costs and UK government debts on construction.
He was being questioned by Welsh MPs about the issue on Tuesday.
The first minister has said he hoped the Welsh government would run the bridges and may be able to cut tolls.
Business people have long complained the tolls have a negative effect on the economy. Cars are now charged £6, vans £12.10 and £18.10 for lorries.
Tolls on the bridges go up every year, based on the Retail Price Index.
Swansea East MP Sian James asked whether the charge would be reduced when the bridge came under public ownership as VAT would not have to be collected.
Mr Hammond said he did not think this would be the case as there would be other reasons to justify keeping the charge as it was.
For example, he said, government debts on the construction and maintenance would have to be paid.
The minister said that the actual process of repayment was likely to continue until the early 2020s.
Welsh Affairs Committee chair David TC Davies, MP for Monmouth, said he was surprised.
"At the moment we pay VAT because it is a private company that runs the bridge, but are you saying that when it goes back into public ownership, we will not see a decrease in price?" he asked.
The minister said he would be very surprised if that were so because "there will be substantial national debts to be paid".
Mr Davies said: "But once the debt has been repaid can we expect to travel across the bridge for nothing or for the cost of maintenance, or is it going to be forever used as some sort of a cash cow?
Job creation
"I think that some people feel angry in Wales at the cost but some of that anger may be alleviated if they thought some end was in sight."
Mr Hammond responded: "I can't reassure you... and there are likely to be further repairs between now and 2018."
Swansea West MP Geraint Davies said people, including himself, believed the toll was a tax on inward investment and job creation in Wales.
"We would want the tax, the toll, minimised and that would signal to the business community to herald a new era of inward investment," he said.
The minister said: "It is not a tax, it is a charge."
The bridges are owned by the UK government but private firm Severn River Crossing plc is responsible for them.
The Welsh government has said it would like to take control of them once the current contract ends.
A Welsh government spokesman said: "As the first minister has made clear, it is no secret that we would like to come to an arrangement regarding the Severn Bridges when the current contract runs out.
"Discussions between the Welsh government and UK government are ongoing.
"However, it must be remembered that the UK government's Department of Transport controls the level of tolls for both bridges, not the Welsh government."