Vicar Academy TV series follow new breed of Church in Wales recruits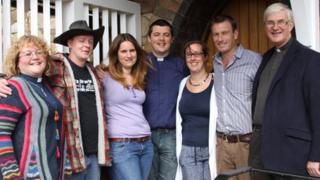 A new television series shows how the Church in Wales is training a new breed of clergy for the 21st Century.
Vicar Academy follows the progress of new recruits at St Michael's theological college in Cardiff.
College officials say people from a broad range of backgrounds are needed to reflect the changing world.
The Church in Wales is currently involved in radical talks with four other denominations to share bishops, ministers and places of worship.
With falling congregations, closing churches and an ageing clergy it is a difficult time for the Church in Wales.
A report published by the church earlier this year revealed that the number of Easter communicants, its average Sunday attendance and electoral roll membership had fallen by close to 50% in the last 20 years.
Another published last year showed the number of paid or unpaid clergy had fallen by 41% since 1959.
Figures published in 2010 showed the lack of younger clergy, with more than half of clerics aged between 56 and 70, and only 4% aged between 26 and 35.
In the face of such decline the Church in Wales is developing radical plans to reform and modernise.
Among these is the creation of "super size" parishes run by vicars and lay people and holding non-traditional services on days other than Sunday.
Churches and chapels in Wales could also share bishops, ministers and buildings as plans to promote unity are being discussed.
The church has also agreed to welcome the cameras for the Vicar Academy series for BBC Wales television, showing its efforts to train a new generation of clergy to rise to the challenge of keeping the church alive in Wales in the 21st Century.
'Variety'
The programmes follow the progress of new recruits to ecclesiastical life at St Michael's College in Cardiff, a theological college serving the Anglican and Methodist churches.
And as its principal Canon Dr Peter Sedgwick reveals, the current crop of trainees is drawn from a wide background.
"No where else in the world would you actually get such a vast variety of people," says Dr Sedgwick.
"We have a woman who was the Bank of England agent in Wales, earning a six-figure salary, and another student who commanded the Argyll and Sutherland Highlanders in the last Iraq war.
"Everything from 21-year-olds to 50-year-olds and a whole range of people in between."
Roz Forbes is one of the ordinands whose progress is shown in the series.
A keen rugby player, the 24 year old has worked as a bouncer, a security guard on a building site and an artists' nude model.
None of her family go to church but she came to faith in her late teens.
"Everything was fine in my life," said Ms Forbes who was filmed as an ordinand for the Diocese of Durham.
"I was an average 17-year-old. I worked in two different jobs. Everything was great, you know. No real problems.
"Then I basically fell asleep one night and woke up the next day; it was like somebody put on glasses for me.
"These glasses had like kind of just awoken me to something else. I was missing something. Now I was seeing a clearer picture."
'Demanding role'
Another ordinand, Steve Bunting, 31, from Swansea, gave up a large salary as a banker in order to study on the course.
A single father of three children under 10 years of age, he is filmed as he began with his third and final year of training and has had to make sacrifices to follow his calling, living away from his children during the week.
"They are getting used after several years that their dad's a vicar," he said. "Dad wears dresses on Sundays.
"You know I miss them terribly when I'm not home. I miss the noise then."
Vicar Academy can be seen on BBC One Wales on Monday 15 October at 22:35 BST.