Jimmy Savile: Sex assault complaint to Gwent Police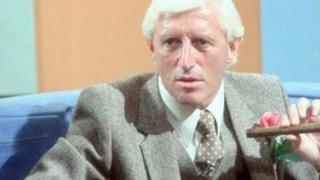 Gwent Police have confirmed that they have received a complaint from a woman who claims she was sexually assaulted by Sir Jimmy Savile in the 1970s.
The force said the alleged victim, then 16, lives in the Gwent force area now but was living elsewhere at the time.
The details have been passed to the Metropolitan Police team co-ordinating the investigation into allegations against Savile, who died last year.
Officers believe he sexually abused as many as 60 people dating back to 1959.
"We have received an allegation," said the Gwent force spokesman.
"A woman living in the Gwent area has made an allegation of sexual assault.
"She reported it on October 6. It is alleged to have occurred in the 1970s when she was 16 and living outside the force area.
"All the relevant information has been passed to the Metropolitan Police."
No allegations against Savile have been reported by the three other police forces in Wales.
Scotland Yard, which is co-ordinating the investigation, said it was following up 340 lines of inquiry and is in contact with 14 other police forces.
Police said the allegations spanned six decades, with reports up to and including 2006.
The BBC has launched two inquiries relating to the claims.
Savile, who presented Top of The Pops and Jim'll Fix It in the 1970s and 80s, died in October 2011, aged 84.