Doctor Who actor Matt Smith unveils Cardiff exhibits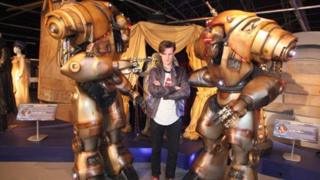 A sonic screwdriver or even a chisel might have been handy when Doctor Who actor Matt Smith made a first visit to the Cardiff exhibition about the show.
For he sank his hands in to cement to make a cast to go on display at the Doctor Who Experience and then told fans: "I can't get my hands out!"
The exhibition aims to build a collection of show-related hand casts.
After pulling his hands free, Smith, 29, added: "I'm here in stone now, so they can never forget."
His visit to the site, next to BBC's Roath Lock studios where the sci-fi show is made, was to unveil exhibits from the seventh series.
Doctor Who re-materialised on the small screen in 2005 and Smith, who joined in 2009, is the 11th incarnation of The Doctor.
'Constantly evolving'
He predicted his new companion, Oswin, played by Jenna-Louise Coleman, would "prove very popular" and said he thinks she "looks great".
Coleman had her first outing in the role when fans caught a glimpse of her in the opening episode of the last series in September.
She is expected to make her debut at Christmas.
Smith said: "Like with any companion and Doctor relationship, the chemistry and dynamic is something that is constantly evolving and hopefully constantly progressing as the story progresses.
"I very much enjoy working with Jenna, she's very detailed, she works very hard, she's very prepared, I think she looks great and I think she'll prove to be very popular."
Smith also paid tribute to Karen Gillan, whose last scenes as his previous companion, Amy Pond, were shown two weeks ago.
He described the final episode with her and fellow companion Rory, played by Arthur Darvill, as "very, very moving".
He said: "I think it was a wonderful and fitting end to two of, in my mind, the greatest companions in recent history.
"I think they've been a fabulous testament to the show. It was an emotional event and I thought it was very sad but very heroic and kind of brilliant."
Smith declined to give away details of the Christmas special, only to say that he will be filming for the next seven to eight weeks then returning next year for more filming after a break.
Next year sees the 50th anniversary of the first Doctor Who episode.
The Doctor Who Experience, which opened in Cardiff in July, will have costumes and props from the archive on display.
Smith added: "I think that's one of the great things about the experience, is that it allows you to touch base with the history and the legacy and I hope that in the 50th year we mark it and honour it in the best, most inventive and most celebratory way."