Cuts protest trio march from Cardiff to London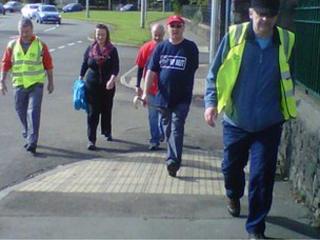 A teacher, a civil servant and a fire fighter have begun a 156 mile (251 km) march from Cardiff to London in protest at UK government cuts.
Steffan ap Dafydd, Cerith Griffiths and Richard Evans - all union reps - will be joined along the way by politicians and a trade union fire engine.
They left Cardiff on Saturday morning and aim to be in London for a TUC rally next Saturday.
Mr Evans said cuts were "hitting the most vulnerable hardest".
They left the Senedd in Cardiff Bay at 08:00 BST on Saturday and were being joined on the first leg of the walk to Newport by Bethan Jenkins, Plaid Cymru AM for South Wales West.
Newport West Labour MP Paul Flynn greeted the walkers at a rally in Newport at midday.
They will continue their walk through south west England, Swindon, Reading and Slough, reaching London on Friday 19 October.
The TUC will hold a rally the following day to protest against the UK government's austerity measures.
Mr Evans, a Cardiff-based civil servant who represents the Public and Commercial Services Union (PCS), said he wanted to highlight cuts which he believes "are vicious and hit the most vulnerable in our society hardest, while those who can afford to pay more get tax breaks".
Mr Griffiths, also from Cardiff, of the Fire Brigades Union (FBU), said: "We now see 1,500 fewer fire fighters, 130 fewer control staff and some 700 fewer support staff since the coalition came into government.
"The Fire Brigades Union and fire chiefs are warning that a further 2,500 fire fighter posts could be lost along with the closure of some 31 fire stations."
'Positive signs'
Meanwhile, Steffan ap Dafydd, who recently retired from Cefn Hengoed Community School in Swansea, said he was marching to protect education.
"One hundred and eighty years ago, only one in five men, and no women, had the vote," said Mr ap Dafydd, who represents the National Union of Teachers (NUT).
"The rich kept workers down and bent the law to keep trade unions out.
"The descendants of those rich boys do not care about you and me," he claimed.
"They still cut tax for themselves and cut pay and benefits for teachers, other working people, the poor, the disabled and pensioners."
Prime Minister David Cameron has said the government was doing "everything it can" to encourage growth in difficult economic times.
During the Conservative conference he said they had cut the budget deficit by a quarter in two years and there were "positive signs" for the future.