Welsh National Opera welcomes £1.2m Getty family gift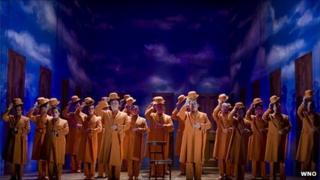 Welsh National Opera (WNO) has welcomed an "extraordinary" gift of more than £1.2m from one of America's richest families.
The money from the Gettys - totalling US$2m - will be used to present a new series of contemporary operas to be performed in the UK for the first time.
The works planned for the next five years include one by composer Gordon Getty, son of oil tycoon J. Paul Getty.
WNO said it was grateful for the donation.
Geraint Talfan Davies, chairman of the Cardiff-based opera company, said the "extraordinary gift" would provide an "extraordinary opportunity" for the company and its audience.
"The Getty family have given us a gift of $2m that will allow us I think to enhance and extend that sense of artistic adventure in our programme over the next few years," he said.
"And it's going to enable us to do a lot of things - as I said, to extend that sense of adventure, to bring the work of modern, contemporary composers of opera to our audiences, bringing some international names here."
The series of five contemporary operas will begin next summer with the UK premiere of Wagner Dream by Jonathan Harvey.
Other works planned include Robert Orledge's completed version of Claude Debussy's unfinished one-act opera, The Fall of the House of Usher.
It will be staged alongside Gordon Getty's Usher House, both inspired by Edgar Allan Poe's classic novel The Fall of the House of Usher.
They will both be directed by David Pountney, WNO chief executive and artistic director, and will be performed in the summer of 2014.
'Creative energy'
Other planned operas in the series include a new version of Peter Pan by Cornish composer Richard Ayres in 2015 and Korean composer Unsuk Chin's Alice in Wonderland in 2017.
Mr Pountney said the company was "very grateful" to members of the Getty family for their gift.
"At a time when the arts face continuing cuts to public funding, this kind of private philanthropy is a vital form of income without which this series would not be possible," he said.
"This series gives us an extraordinary opportunity to re-engage with contemporary opera writing and to transform our perceptions of new music.
"We hope to dispel the misconception that modern opera is either moribund or incomprehensible to our audiences.
"Nothing could be further from the truth. There is a massive amount of creative energy in the art form and new works are constantly being created all over the world."
Heritage minister Huw Lewis also welcomed news of the donation, which he said would allow the company to build upon its "already excellent" reputation.
"The WNO really puts Wales on the cultural map and this programme and the funding that is making it possible will provide Wales with a very welcome boost on the world stage," he said.