Captain Scott garden given home at Roath Park, Cardiff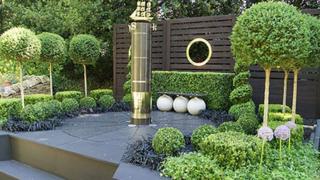 An award-winning garden honouring one of Britain's greatest adventurers now has a permanent home.
Roath Park in Cardiff is hosting a garden inspired by Captain Scott's expedition, which set sail from the city to the South Pole in 1910.
The expedition ended in tragedy with the death of Scott and his five-man team, beaten to the South Pole by the Norwegian Roald Amundsen.
The garden won awards at the Chelsea Flower Show and the RHS Show Cardiff.
It was originally put together with the help of Cardiff council's parks service to mark the centenary in 2010 of Scott's expedition.
Scott had set off from an Edwardian Cardiff that was thriving with an economy driven by coal exported from its port all over the world.
Wealthy homes of the period often featured formal gardens and this helped inspire the commemorative garden, which also includes a sculpture as a centrepiece.
The garden was entered into the Chelsea Flower Show in 2010 where it won a silver medal, and a year later was a sliver gilt winner at the RHS Show Cardiff.
Scott was cheered by thousands when he left Cardiff early on the afternoon of 15 June, 1910 with the aim of becoming the first expedition to reach the South Pole.
His ship, the Terra Nova, sailed from the docks laden with Welsh coal, fuel, and supplies.
On arriving at the geographical South Pole in January 1912, Scott and his party discovered they had been beaten to it by a team led by Amundsen.
The polar team led by Scott died on their return journey from the pole and their bodies were found by a search party eight months later.
Council cabinet member for sport, leisure and culture, Huw Thomas, said Cardiff had strong links with the history of Captain Scott and his journey to the South Pole.
"It is fantastic that the garden has been moved to a permanent home in Cardiff's much loved Roath Park to be enjoyed by future generations and enable the legacy of Captain Scott to live on," he said.