John Cale's accent on the future at 70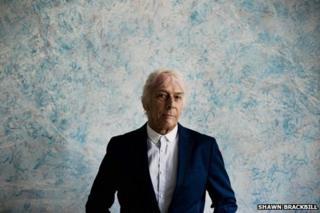 Few 70-year-olds can wear peroxide blond with quite as much distinction as John Cale.
The Welsh singer continues a lifetime of musical innovation with an eclectic look and sound for his latest album and tour.
Shifty Adventures in Nookie Wood is his first full-length record in seven years, and merges a fascination for sound recording technology with half a century of his own inventive musicality.
"Everybody's telling me that this album is different," he told me from his record company's office New York.
"I just sort of got locked into an affair with a rhythm box. About a year and a half ago we started working on it. We began mixing (the album), and we wondered if what we were hearing in the studio was the same as what you would hear on the outside."
"So we went through a period of running up and down, jumping outside and sitting in the car listening to the CD to see if it sounded the same."
Few John Cale records sound the same. Last weekend he brought his latest sound to Cardiff's Coal Exchange, putting on an "absolutely astounding performance and homecoming," according to one reviewer.
As a boy growing up in Carmarthenshire he played viola in the Welsh Youth Orchestra but a prestigious scholarship took him to New York where experimental rock music eventually gripped him.
With Lou Reed he created the Velvet Underground, which in later years allowed them both to be credited with forming a punk band before the term had been coined.
Cale said his audiences came to expect him to do things differently.
"My live performances became very different. I used to change them a lot and change the way that songs were performed. I'd do different arrangements, the presentation and persona would be different. So I think people got used to that."
New technology is introducing John Cale to new audiences, and allowing more people to find his work. But he admits to being slightly phased by the breadth of possibilities that the internet provides.
"It's a bit of a blizzard. Tweeting and Facebook - some really vicious comments go on there, nasty gossip seems to be the standard. So I stay away from that."
"But I find new material by patrolling the web and you find it in the most unlikely places. There's always new stuff coming, there's so much out there."
John Cale's songs aren't sung at rugby matches, and are rarely Welsh favourites at karaoke parties. But despite being a long-time resident of Los Angeles, a Welsh lilt still oozes from his gruff voice.
"I don't think anybody can get far away from the accent! I always remember the first year that I was in New York, at the end of that time someone said to me: 'Not too many people understood what you were saying. There was a lot of nodding and smiling going on, but not too many people understood it.'"
"So I remember that, but I don't think this accent is going to go away anytime soon."