Wales Office questions assembly powers over language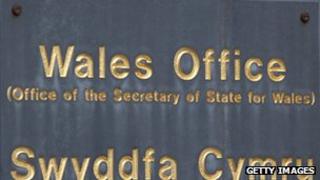 The Wales Office has questioned the Welsh assembly's power to pass legislation designed to give equality to Welsh and English.
It argues that the assembly may legislate in relation to the Welsh language, but not English.
Its concerns about a bill have gone to the attorney general who could take the matter to the supreme court.
UK and Welsh government lawyers are already at the court in a legal tussle about another piece of legislation.
Equality
The Official Languages Bill was passed by AMs last week.
It requires the assembly to give equality to the two languages in relation to assembly proceedings, the internal working of the assembly and its dealings with the public.
The assembly's legal advisers disagree with the Wales Office and say the bill is within the institution's competence.
The assembly commission - the body which organises day-to-day business in the assembly - says reference to the English language is incidental to the provision the bill makes in relation to Welsh.
Its chief legal advisor Keith Bush says: "In light of these factors the assembly commission has concluded that the right course of action is that the bill should proceed as originally intended."
The attorney general has until the end of October to formally challenge the assembly's competence
A Wales Office spokeswoman said: "The attorney general has 28 days to make a decision on whether to refer the National Assembly for Wales (Official Languages) Bill to the supreme court and we are still within that period."
Plaid Cymru language spokeswoman Bethan Jenkins said the party had assurances from the presiding officer that the issue was within the Assembly's competence.
"If the Wales Office chooses to intervene on this issue, then we believe that the Commission will put forward a compelling case," she said.
"This legal challenge is sure to incur considerable cost and is a waste of public money."
It comes after lawyers for the Welsh and UK government clashed in the supreme court over whether a bill to reform local government byelaws exceeds the assembly's powers.
Five judges are expected to decide before Christmas whether the Local Government Byelaws Bill should be returned to the assembly to be amended or go forward to become law.
A hearing into the bill ended on Wednesday.
The QC representing the attorney general told the court the bill made changes to the powers of UK government ministers and called for parts of it to be declared unlawful.
However, the judges raised questions about why the powers that were being removed had not been used since the advent of devolution in 1999.