Charlotte Church does not want to 'muzzle' press after Leveson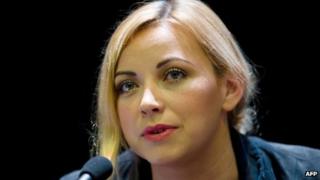 Singer Charlotte Church says she and fellow campaigners do not want to "muzzle" the press in their fight for an independent media regulator.
The 26-year-old said the public interest should be redefined in the wake of the Leveson inquiry, to tackle unwarranted press intrusion.
She said she was "comforted" by a meeting with Prime Minister David Cameron at the Conservative conference.
Church said ordinary people needed protection as well as celebrities.
The mother-of-two met Mr Cameron on Tuesday evening with fellow members of the Hacked Off campaign ahead of a news conference on Wednesday.
The singer said they were concerned that the prime minister favoured continued self-regulation of the media.
"It's been a bizarre experience for me really to be here, I'm not really used to party politics and conferences, but it was very comforting," she told BBC Wales on Wednesday.
"Basically the reason why we came here, now I'm a new patron to Hacked Off, we were hearing murmurings in the press that the government were going to just reject anything that (Lord Justice) Leveson had put in his report."
Dozens of phone-hacking victims have written to the prime minister urging him to keep an "open mind" on recommendations Lord Justice Leveson might make following his inquiry into media standards.
Church, who gave evidence to the Leveson inquiry, said an outcome must be reached that would satisfy the victims of phone hacking.
"It's not about muzzling the press or limiting freedom of expression or free speech. We are at Hacked Off massive advocates of free speech it's integral to our democracy and we believe in it fully," she said.
"I think we really need to look at what's in the public interest and possibly redefine that for a more modern age."
Church said she believed the public backed the campaign for reform.
"This isn't about celebrities, this isn't about super injunctions or more privacy or stopping stories coming out - it's not about that.
"It's about a lot of families who have been accidentally caught up in this world of the press ... and the horrific abuses they had to suffer."