Robbie Powell: NHS 'must learn lessons' from boy's death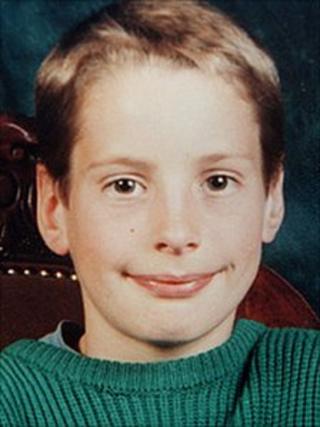 A review of the way medical records are handled has been announced by the Welsh government following the death of a 10-year-old boy from a treatable disease.
Robbie Powell, from Ystradgynlais, Powys, died at Morriston Hospital, Swansea, of Addison's disease in 1990.
Health Minister Lesley Griffiths said there had been a "catalogue of failures and missed opportunities" in his case.
His father William criticised a "whitewash" and called for a public inquiry into his son's death.
'Mistakes'
Mrs Griffiths was publishing a Welsh government report into what the NHS can learn from the case.
In a Senedd statement to AMs on Tuesday, she said: "The pain has been made all the worse for his (Robbie's) family by subsequent events and investigations, none of which have brought satisfactory answers for them."
She said thousands of people received excellent health care from the NHS every day, but when things go wrong the service "must take every opportunity to learn from those mistakes".
The report includes a review of the arrangements for accessing and storing medical records.
At present GPs have up to a month to send medical records to a local health board (LHB) after they are told a patient has died. Records must be sent within 14 days if the GP is informed of the death by the LHB.
Officials say they want to make sure records are "locked down" when someone dies.
The Welsh government says it will review the guidance for copying letters to patients.
A new system that lets GPs electronically refer patients to hospital will be rolled out to all practices this year. It is currently available to 94% of them.
First Minister Carwyn Jones apologised to the Powell family earlier this year, saying they had been let down by the system, despite numerous investigations, including by the police.
Father's campaign
An inquest in 2004 into Robbie's death returned a verdict of death by natural causes aggravated by neglect.
The jury heard that Robbie had Addison's disease, a rare but treatable hormonal condition.
Four months before his death, a hospital consultant had suggested that the boy should be tested for the condition but the test was never carried out.
As his condition worsened, Robbie was seen seven times by five different GPs in the two weeks before he died but none of them realised that he might have Addison's disease.
Robbie collapsed at home on 17 April 1990 and his father, William Powell, drove him to hospital himself after a GP refused to call an ambulance.
William and Dianne Powell discovered only after Robbie's death that Addison's disease had been suspected in their son's case and that a test had been recommended.
Mr Powell has campaigned for a public inquiry, alleging that there was a cover-up.
Speaking after receiving Mrs Griffiths' report, he said: "To be honest with you I think it's been a complete whitewash. I think it's been a waste of public money.
"You can't learn lessons unless you inquire into everything that went wrong and why it went wrong.
"All I care about is identifying what went wrong in Robbie's case from the start to the present."
Conservative health spokesman Darren Millar supported Mr Powell's call for a full public inquiry.
He said: "With so many unanswered questions surrounding Robbie's case after more than 22 years, there is no doubt in my mind that we need a full and independent public inquiry to establish the truth once and for all."