Priest sued for £11m by man injured in crash in Italy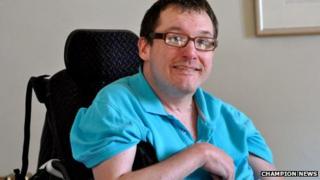 A Catholic priest is being sued for £11m in damages after knocking down an English tourist in Italy, leaving him brain damaged and in a wheelchair.
Father John Richard Cole, from Merthyr Tydfil, was driving a Peugeot in Rome during the early hours of 14 January 2006 when he hit James Kennedy.
Mr Kennedy, 36, from Northumberland, spent 10 months in a coma with "catastrophic brain injuries."
London's High Court will hear the full case in the new year.
It was opened briefly on Tuesday before Mr Justice Stuart-Smith who later adjourned the case.
The claim was being made against Father Cole and his motor insurers for pain and suffering, loss of earnings and the costs of care and special equipment Mr Kennedy will need to make the most of the rest of his life.
The hearing was told Mr Kennedy is bringing his claim through his mother, Elaine Lee, as he lacks legal capacity to sue the priest himself.
Areas of dispute
Mr Kennedy's legal team has already secured a judgment in relation to liability for the accident on the basis of 80% of a full valuation of the claim.
Now all that remains is for a judge to assess the amount of his compensation package.
Mr Kennedy, formerly a keen amateur rugby and cricket player, was on holiday in Rome with university friends when he was hit by Father Cole's Peugeot whilst crossing the Corso Vittorio Emmanuele road.
Stephen Killalea QC, prosecuting, said Mr Kennedy needs 24-hour care, will never work and has substantial additional needs in the form of therapies and equipment.
"Discussions between the parties have however identified three major heads of loss which it is anticipated will remain incapable of agreement - care, loss of earnings and accommodation," he said.
"Perhaps unsurprisingly these heads of loss are by far the biggest in financial terms."
Mr Killalea added that in the fight for £11m one of the major battlegrounds will be whether he is allowed the funds to be cared for in his own specially-adapted home rather than a less expensive residential care unit.
In May this year an interim payment was made to allow Mr Kennedy to buy an £885,000 specially adapted home in Gosforth, Newcastle, which he intends to move into within the next few months.
Mr Killalea also claimed that, had Mr Kennedy been able to continue his career in recruitment, he would have been earning £100,000-a-year as a senior manager within about 10 years of the date of his accident.
The barrister asked for him to be compensated for loss of earnings on that basis.
The defence case had previously claimed that Mr Kennedy had been wearing dark clothing and kept no proper lookout when stepping into the street at the time of the accident.
Tim Horlock QC, representing the defendants, said on Tuesday that the purchase of the house was "a matter of significant controversy between the parties" adding that it would not be "reasonable" of the court to rule that Mr Kennedy should be funded to live in his own home.
Mr Horlock also contended that Mr Kennedy would have been likely to achieve a maximum salary of about £50,000-a-year during his career, about half the figure claimed.
A full hearing is expected in the new year.