Gary Speed family 'boosted by fan tributes'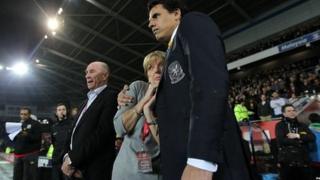 The father of the late Wales manager Gary Speed says he is "lost for words" to describe the tributes from fans to his son since his death last year.
Speaking at the FAW football awards dinner on Monday night Roger Speed said his family was still struggling to come to terms with his son's death.
But he said the support from the football world over the last year had been "overwhelming".
And he called for fans to back new Wales manager Chris Coleman.
Speed, the former Leeds, Everton and Newcastle star died in November 2011, aged 42.
His body was found hanged in the garage at his home near Chester, but a coroner at his inquest in January said he could not be satisfied the ex-Premier League star intended to kill himself.
Speed's death saw an outpouring of grief in the footballing community.
Fans at grounds around the country took part in tributes to the former Wales manager, who also played for Bolton and managed Sheffield United.
Many of the events were attended by members of Speed's family, including his wife Louise, sons Edward and Tommy, as well as his parents Roger and Carol.
Roger Speed described the way the sport rallied round his family as "fantastic".
'Proud'
Speaking of the tributes, he told BBC Wales: "I couldn't believe it, honestly.
"They were overwhelming. Every club he played for, even when we went away, every club were absolutely brilliant.
"Honestly I'm lost for words for the fans. Really, really, I'm lost for the words.
"To me, the fans, absolutely brilliant. Absolutely brilliant. Honestly, and I mean that. Carol and me... Words can't describe it. We're that proud. It's tremendous."
Asked how the family were coping almost a year on, Mr Speed said: "We still can't come to terms with it, you know. We don't know why, and what have you, but things like this are helping us along.
"Just to talk about Gary's career, his life and everything.
"The boys are doing well... It's just the wife. The wife as a mother acts the mother. She's just struggling a bit. She's slowly, though, coming to terms. Hopefully we can get her back there."
After building up momentum under Gary Speed, Wales' international team has struggled since his death, losing its last five games.
'Get behind him'
But ahead of the World Cup qualifier against Scotland on Friday, Roger Speed called for Welsh fans to throw their support behind Chris Coleman, his son's successor as national manager.
"They were mates," said Mr Speed.
"I've known Chris since Gary and Chris were playing together. All I can do is wish him all the best.
"I wouldn't like the job he's got to do, to take over after Gary because I think Gary was doing an absolutely tremendous job.
"I really, really feel for Chris because some supporters, the Welsh, they can be a little bit fickle.
"So because things are going down...it's no good sacking, getting rid of him.
"Get behind him. Get behind Chris Coleman for me and Gary, please."