Llanelli AM Keith Davies 'improving slowly' in hospital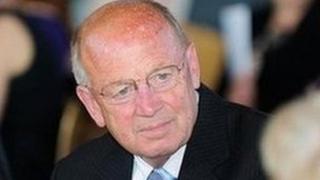 Welsh assembly member Keith Davies is improving slowly after spending a 12th night in hospital, the Labour Party has said.
The party said it looked forward to seeing Mr Davies back in the assembly when he makes a full recovery.
He was admitted to hospital when he fell seriously ill on September 26.
The Llanelli AM is said to be conscious and talking, but is undergoing further tests at the University Hospital of Wales in Cardiff.
In a statement, Labour said: "Keith Davies' condition is improving slowly.
"He is conscious and talking but he remains in a high dependency unit at University Hospital of Wales where tests are on-going.
"Keith's family and Welsh Labour would once again like to thank those who have sent in messages of support for Keith and we look forward to seeing him back at the assembly when he makes a full recovery."
He had previously undergone tests at the university's neurosurgical unit.
Mr Davies was first elected to the assembly in May last year at the age of 70, taking back Llanelli for the Labour Party from Plaid Cymru by 80 votes.