Mobile phone drivers targeted in police campaign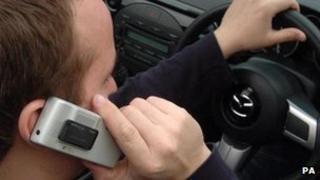 A campaign has been launched to discourage motorists from using mobile phones while driving.
It aims to promote the safety message and raise awareness of the dangers of mobile phone use behind the wheel.
All four Welsh police forces are joining the drive which will run until 21 October.
Since February 2007 using a mobile phone whilst driving can result in three penalty points and a £60 fine but police say drivers are still offending.
Full attention
Chief Inspector Darren Wareing, from the North Wales force's roads policing unit, said there were real dangers involved.
"The consequences of a momentary lapse in concentration when driving can be devastating to road users and pedestrians," he said.
"As soon as a driver answers a call, looks at their phone to text or read a message, their concentration is affected.
"As a result they cannot give their full attention to the road and risk becoming involved in a collision."
The greater use of smart phone means that drivers may use a phone to access applications, e-mails or the internet, he added.
"These actions carry the same danger, hence the same penalty," he said.
Sue Storch, chair of Road Safety Wales, said it would be supporting the campaign by publicising the dangers of using a mobile device while driving.
"We will continue to raise awareness of this issue and work closely with our colleagues in future campaigns," she added.