April Jones: We are clinging to some hope, says priest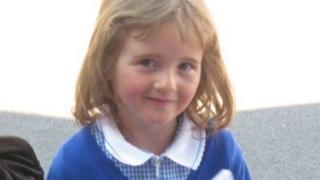 The small town of Machynlleth is surrounded by hills, marshland, farmland and forests.
The nearby Dyfi Forest covers nearly 15,000 acres and there are thought to be about 200 miles of tracks inside.
This gives you some idea of the daunting scale of the search to find five-year-old April Jones, who has not been seen since she was abducted close her home on the town's Bryn-y-Gog estate on Monday evening.
There was hope that April would be found alive for nearly four days, that was until Friday afternoon.
It was then the news came that police were now treating the schoolgirl's disappearance as a murder investigation.
Despair and disappointment could be felt rippling through Y Plas, a community venue, where searchers had gathered.
The optimism and determination that April would be brought home safe and well was replaced with only a desperate strand of hope that the police might, just might, be wrong.
Even so, on Saturday as mountain rescue teams from across the UK continued to comb the rolling hills and specialist searchers inspected rivers and forests, a sombre mood settled over the area.
The Reverend Kathleen Rogers says the "realisation has come now that perhaps we're not going to find April as we had hoped".
But she said people must continue to hold on to some of that hope.
"It's early, but I have been walking round town and it's still very quiet and very sad in town," she said.
"And I think the realisation has come now that perhaps we're not going to find April as we had hoped we would find her. We are clinging to the hope.
"I have said it from the beginning and until someone tells us something different then we have got to have this hope to carry us through."
Her sentiments were shared by Machynlleth's mayor Gareth Jones.
"There is a sense of determination and hope," he said.
"There's still hope April's out there somewhere. Until it's confirmed otherwise it's important to have a positive attitude."
Carl Jones, one of the volunteer search coordinators, explained that he simply could not go home and watch the news unfold on TV. He had to be here helping in some way.
"It's because I'm local. It means something to me," he added.
He was not alone. Since Tuesday, hundreds of volunteers have descended on the town's leisure centre, some having travelled from all over the UK - south Wales, Manchester, Bristol and the West Midlands.
On Friday another church vigil was held for April, the fourth in succession and the biggest so far with a congregation of around 150.
It was taken by the Bishop of Bangor Andy John and Reverend Rogers.
"It was a very powerful vigil last night," said Reverend Rogers.
"There was over 150 people there including the police and we're very, very grateful to them for all that they're doing.
"It was very silent in there, and it was a very powerful and very moving service."