April Jones: Police in final hours to quiz suspect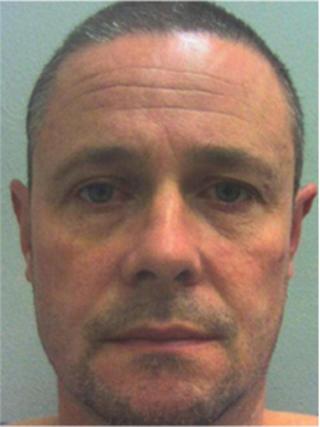 Police investigating the disappearance of five-year-old April Jones are to hold a news conference shortly.
Officers have until around 17:00 BST on Saturday to question a man on suspicion of the murder of missing the schoolgirl
A fresh search for April resumed at daybreak in and around her hometown of Machynlleth, Powys, after she was last seen on Monday evening.
Officers from Dyfed-Powys Police are still quizzing Mark Bridger, 46, over her disappearance.
Meanwhile, a councillor says the whole community will stay strong for April's family regardless of the outcome of the search.
"It must stay strong for the family and for itself," said Machynlleth councillor Michael Williams.
"There must be no despair.
"In fact, this terrible thing that has happened I believe will bring the community even closer together, the people born and bred in the area and the people who come here to live.
"The togetherness has been superb."
He said there has been a change in the mood of the community but that people are still holding on to the hope April will be found alive.
"If that is not to be then it is crucial April is found for the family and the community but primarily for the family who must have suffered agony since this happened," he said.
Local priest Reverend Kathleen Rogers described the community as "clinging to hope" April is alive.
"I have said it from the beginning and until someone tells us something different then we have got to have this hope to carry us through," she said.
'Focus on April'
A new search for April got under way at first light on Saturday with hundreds of specialist search officers involved.
It followed a decision by police to suspend night-time searches.
Magistrates gave officers until 16:50 BST on Saturday to quiz Mr Bridger at Aberystwyth police station.
Police confirmed on Friday morning that he was now being held on suspicion of murder, rather than an earlier child abduction arrest.
But in the last update from Dyfed-Powys Police on Friday evening, the investigation team insisted that they remained determined to find April.
"Despite the developments in the investigation, our focus remains on finding April and the search will continue," stated Supt Ian John.
He said there were more than 60 specialist trained officers made up of all the emergency services as well as dozens of mountain rescue teams.
Search dogs, boats with sonar equipment and helicopters were also being used.
Around-the-clock searches began on Monday evening, with teams focusing on areas around the River Dyfi in the mid Wales town.
But on Friday evening, police confirmed that they were suspending night-time searches.
Dyfed-Powys Police renewed an appeal for information about Mr Bridger's movements and that of his blue Land Rover Discovery, registration L503 MEP between 18:30 BST on Monday and 15:50 BST on Tuesday.
Forensic examination has taken place on the vehicle, while officers have also been searching a farmhouse in the nearby village of Ceinws, where the arrested man was known to be living most recently.
It has also emerged Mr Bridger had attended Ysgol Gynradd Machynlleth at the same school parents' evening as April's parents hours before she went missing.
Parts of the town have been covered in pink ribbons since April's mother made a plea for people to wear her daughter's favourite colour and to show support for the search.
A vigil was held in the town on Friday evening - the fourth this week - which was attended by members of the emergency services who have been involved in the hunt for April.
On Sunday, a special service and vigil will be held in the town, led by the Bishop of Bangor, Andy John.
The service will follow a march from the Bryn-y-Gog estate where April disappeared, to St Peter's Church.
"This has been a very long and exhausting week for everyone in Machynlleth," said the bishop.
"It is at times like this that people need their faith most and want to turn to God for help.
"The church has held a vigil service every night and we hope the service on Sunday will bring people together to pray and reflect. We hope they will feel the love of God and draw some comfort and hope from it."
Dyfed-Powys Police have asked anyone with information to contact a dedicated hotline on 0300 2000 333.