April Jones: Huge scale of search around Machynlleth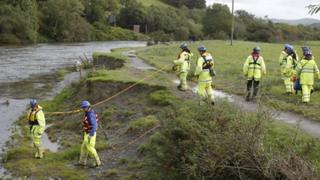 The scale of the search for the missing five-year-old April Jones, missing from near her mid Wales home, is daunting.
Machynlleth is a small market town surrounded by dense woodland, hundreds of miles of forest tracks, hills, marshland and farmland.
Expert teams have been combing areas of thick forest around the the town, and they gathered once again at first light on Friday to continue the hunt.
Hundreds of volunteers have been helping too, but police announced on Friday - at the same time that they said that Mark Bridger had been arrested on suspicion of murder - that they now wanted only professionals to take part, some volunteers continued to join in.
Machynlleth mayor Gareth Jones said: "It's a very well known area for rallying and mountain biking and that's the reason why it's popular because of its vastness and its difficult terrain.
"It poses a challenge and it's posing a challenge to the people searching out there.
"That's why the police are asking for people with specialist knowledge to come here to assist - otherwise it could be more of a liability."
The town is surrounded by hills, including the Wylfa and Pen yr Allt, while the Dyfi Forest covers some 14,800 acres (6,000 hectare), which is said to contain about 200 miles of forest tracks.
There are also rivers, a lake on top of one hill, and a number of abandoned mines between Machynlleth and Corris.
"There's a lot of terrain to search," Mr Jones said.
Abandoned mines
"Even though we are a small population it's a big area.
"I would imagine the more people they've got available the less time it's going to take. I know they're working day and night in long shifts to cover all the area so they're doing their utmost. I'm sure that they'll be as quick and thorough as possible."
Rhydian Mason, from Machynlleth, who is one of the search volunteers, said the terrain ranged from boggy marshland and rocky ranges to farmland.
"I'm not an expert," he said. "I'm just a local person helping out.
"But yesterday we thought we covered quite a big patch, between the Wynford Vaughan Thomas viewpoint (near Dylife) and the far side of Dylife, but you come back here where the coordinators are and you look at it on the map where you've been and it's nothing, which means we need to go again.
"If you were to search every nook and cranny it could take weeks."
Dyfed-Powys Police have asked anyone with information to contact a dedicated hotline on 0300 2000 333.