April Jones abduction: Volunteer describes the search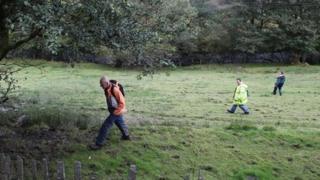 Farmer Stephen Head, who is originally from Australia, is one of the 400 volunteers involved in helping the search for missing five-year-old April Jones in mid Wales. He describes how he became involved when a call came looking for people with local knowledge.
"We live in a village not far from Machynlleth called Llanbrynmair, and there's been a lot of media coverage about the disappearance of April.
As it's so close to home, we wanted to get involved and help out and do what we could.
We had a call from some local farmers, who'd heard they were looking for people with local knowledge, particularly farmers and landowners, to search their area, particularly outbuildings to see what we could find.
We haven't been involved in the search up until now because we felt it was concentrated around the Machynlleth area.
I think we felt it was something we should do. There's a little girl, she's five years old, she's done no harm to the world.
Communities should pull together to find this little girl and we must do everything we can. It's important we get as many people on the ground looking, and hopefully it'll be a happy ending and we'll get her back.
We came here to Machynlleth and then went to the car park in Llanbrynmair, and from there we were dispersed into smaller teams to cover patches that we knew.
We covered most of our farm and we've got a big hill which we went up and had a look round there, and we were out for about two hours.
We also looked around farmland and forestry, then we met up again and went up to another forestry area about a mile-and-a-half up the road. We didn't find anything.
'Community spirit'
It's a big old patch. It needs to be covered, but in some respects it's like looking for a needle in a haystack. That's why it's so important to get so many people out there.
At first, when we were looking on our own farm we broke down into two. There was me and my father and then we got back into group of about 16, and then we spilt down into four groups to cover a lot of the forestry further up.
In terms of actually searching we were out for about four or five hours. I would happily have stayed out there until it was dark.
We were covering areas that we knew had to be covered, but at the same time we could easily see it probably wasn't an area that she would probably be in. At the same time we'll do what we're asked to do.
People have pulled together and it just shows what community spirit there is around here, and not just in the immediate Machynlleth area.
On top of that you're getting people from all over the UK. That says a lot about community and spirit in the UK today. It's tragic that it's taken something like this to bring people together.
I've received postings on Facebook from people in Australia. The story has gone global.
If called upon tomorrow we would come back."
Dyfed-Powys Police ask anyone with information to contact a dedicated hotline on 0300 2000 333.