Bishop of Bangor Andy John: Fears over April Jones kept 'at bay'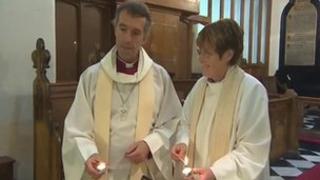 The Bishop of Bangor says people praying for the safe return of missing five-year-old April Jones are trying to "keep their fears at bay".
Rt Rev Andy John, who led a vigil in Machynlleth's St Peter's Church on Wednesday, said he felt people did not "want to entertain the idea that there's going to be a bad outcome".
April went missing from the town on Monday.
The search for the girl, involving hundreds, is now in its fourth day.
Up to 50 people sat in quiet contemplation for an hour on Wednesday night in St Peter's Church and lit candles.
Bishop John, who led the vigil, said people "all over the country are now praying for April's safe return".
He told BBC Radio Wales: "I think people want to keep their fears at bay, that's what I'm sensing.
"There are a lot of sentences that begin and then don't finish, as though people don't want to entertain the idea that there's going to be a bad outcome.
"At the same time they are wanting to find a way of expressing hope.
"So when they come to church, and they sign a book of prayers for April, when they light a candle, when they just wander around and bring themselves together in community, that's a very powerful thing.
"That keeps a community together."
About 450 volunteers have responded to a call for people with "good local knowledge" to search villages around Machynlleth.
On Wednesday night, police were given an extra 12 hours to question Mark Bridger, a local man arrested on Tuesday on suspicion of abduction.