Language bill puts Welsh and English on 'equal footing'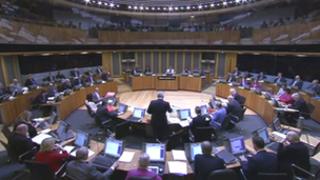 The Welsh assembly has passed a bill designed to ensure equal treatment for Welsh and English in the institution.
The Official Languages (Wales) Bill makes Welsh and English the official languages of the assembly.
But language campaigners were disappointed AMs did not support amendments on translating the record of proceedings.
Presiding Officer Rosemary Butler said it was a "historic day in the history of devolution and of Wales".
She said the bill, which requires Royal Assent, placed a statutory duty to put both languages on an "equal footing".
"Our commitment to the Welsh language can no longer be questioned," she said.
It guarantees the right of anyone who takes part in assembly proceedings to do so in either language and outlines how the assembly will provide bilingual services to the public.
Cymdeithas yr Iaith Gymraeg (the Welsh Language Society) welcomed the passing of the bill, but said it was disappointed AMs did not support amendments that would have "ensured bilingualism in the assembly".
Tory AM Suzy Davies called for the translation of all assembly proceedings, including committee meetings.
But AMs were told the move would cost between £400,000 and £600,000.
Currently the full record of proceedings is only published in both languages for plenary meetings in the Senedd chamber.