400 job losses expected at AA call centre in Cardiff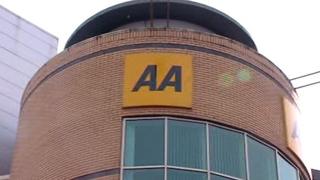 Over 400 jobs are expected to be lost at the AA insurance call centre in Cardiff, the company has announced.
Pointing to a rise in online purchases, the AA said it would be focusing its call centre activity in Newcastle in future, and its Cardiff base would move to smaller offices within two years.
The AA and BSM driving school businesses will remain, with around 150 jobs staying.
Union officials said the news of the formal consultation came as a shock.
The company said in a statement: "Changes in the way that people buy and renew insurance - particularly the sharp growth in online transactions, resulting in fewer purchases made by telephone through conventional call centres - has led the AA to consider the way it looks after its customers through all of its road and insurance call centres, as part of a UK-wide review."
It said the expected to see a net reduction in its UK call centre staff of about 317 employees.
The AA said currently, just under 3,000 of its 8,000-strong workforce are based in call centres.
"The net loss is likely to be made up of about 406 roles in the Cardiff contact centre with future insurance call centre activity being focused at the AA-owned Newcastle office, where 183 new jobs are expected to be created.
"However, the Cardiff-based AA Driving School and BSM activities will be retained along with some other core functions, preserving about 150 jobs."
The company said work would move to new premises in the city before the current lease on the Penarth Road office expires in about two years time.
A 90-day consultation period has started.
The Independent Democratic Union expressed its "grave concerns" and said many workers were young people and commuters from the south Wales valleys, where jobs were hard to come by.
The union's national secretary, Alistair MacLean, said: "The announcement today of the proposed restructure of the AA's Cardiff insurance office has come as a shock. Since the time private equity became involved in the AA, we have seen many commercial changes.
"Yet again, we are seeing short-term corporate greed."
Sandra Busby, managing director of the Welsh Contact Centre Forum, which represents the call centre industry, said it hoped to do all it could to help AA staff find alternative work locally.
"While the job losses are extremely disappointing, they're not reflective of the wider picture across the sector," she said.
"Cardiff remains one of the best places in the UK to operate a contact centre and organisations such as Firstsource and Serco are recruiting in numbers here. Added to the pockets of employment being created at other centres across the region, the availability of similar jobs should give these employees hope."