Cancer drug fund support lacking, Bangor University survey suggests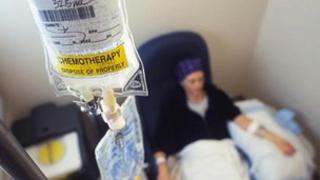 New research suggests that most people do not support paying more for cancer drugs over other medicines for equally serious conditions.
The results of the survey by Bangor University come as Welsh Conservatives call on the public to sign a petition for a cancer treatments fund for Wales.
The Welsh government has said there is no evidence that it will improve quality of life or survival rates.
In England the NHS already has a £200m cancer drugs fund.
This helps people access drugs that are not automatically available on the NHS.
In July, the Welsh Conservatives launched a petition calling for easier access to life-prolonging cancer treatments.
But the research carried out in Bangor by Prof Dyfrig Hughes and colleagues at the Centre for Health Economics and Medicines Evaluation suggests that the principle of such funds is not generally supported by the public.
'Fair allocation'
His team surveyed more than 4,000 people across Wales, England and Scotland to find out whether they valued delivering health benefits to cancer patients more highly than to patients with other conditions.
"The result that we found were that the majority - about 64% - were not in favour of prioritising one or the other," Prof Hughes told the BBC Radio Wales current affairs programme Eye on Wales.
"They wanted fair allocation, regardless of the disease, all else being equal.
"There was a consistent message that there wasn't general support for cancer [being a special case] versus other conditions."
Darren Millar, the Conservatives' Welsh health spokesman and the AM for Clwyd West, remains convinced that a cancer treatment fund for Wales is necessary.
"You have to ensure that people can get the very best access to the very best drugs for their situation," he said.
"We're finding that drugs that have been licensed for use, which are proven to be clinically effective, are being denied to patients in Wales.
"Yet in England - because of the establishment of the cancer drugs fund - patients are able to access them and enjoy the benefits through improved quality of life and prolonged life."
Diverting resources
The arguments over the establishment of a similar fund for Wales have led to heated exchanges in the Welsh assembly.
Welsh Health Minister Lesley Griffiths is unconvinced by those arguments and believes that her government's five-year cancer delivery plan - launched in June - is a better way forward.
"I don't believe a cancer drugs fund is fair," she said.
"It's not new money in England and if you have a cancer drugs fund - as several oncologists have pointed out to me - when do you have an ophthalmology drugs fund, when do you have a cardiac drugs fund?
"I believe the approach we're taking - we have our Cancer Delivery Plan - is absolutely the right way."
If a cancer drugs fund for Wales divides political opinion, it also divides medical opinion.
Matthew Makin, a consultant and cancer care expert at Wrexham Maelor Hospital, said he opposed the idea.
"If through a Welsh cancer drugs fund we're choosing to spend NHS resources on treatments that have not been appraised or have received a negative appraisal, we are in effect diverting these resources away from other technologies and modalities of cancer care."
But fellow cancer specialist Prof Jonathan Wagstaff from Swansea's Singleton Hospital believes it is unfair that he cannot prescribe drugs to his patients which are generally available - through the cancer drugs fund - in England.
"Whether we have a cancer drugs fund or not I think there needs to be some way found to make these medicines available to patients in Wales," he said.
"We have a United Kingdom, but we don't any longer have a united health service. It just seems wrong to me that English patients can have treatment and Welsh patients can't."
The cost of new drugs should begin to fall from 2014 when new arrangements, known as value-based pricing, come into effect. The cancer drugs fund in England is then supposed to close.
Eye On Wales is on BBC Radio Wales on Sunday 30 September at 13:00 BST.