Keith Davies: Labour's Llanelli AM 'seriously ill' in hospital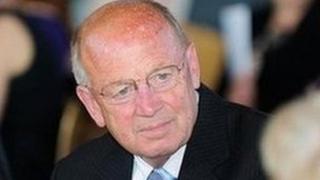 Assembly members have sent best wishes to Llanelli AM Keith Davies, believed to be seriously ill in hospital.
The 71-year-old AM was admitted to the University Hospital of Wales, Cardiff, on Wednesday night.
A Welsh Labour Party spokesman said on Friday that Mr Davies was undergoing tests at the neurosurgical unit.
He had attended a function organised by a public affairs group on Wednesday, but party officials said it was unclear how Mr Davies had fallen ill.
BBC Wales understands that Mr Davies is seriously ill, although there has been no official confirmation.
Mr Davies was first elected to the assembly in May last year at the age of 70, taking back Llanelli for the Labour Party from Plaid Cymru by 80 votes.
The Welsh Labour spokesman said: "On Wednesday night, Llanelli AM Keith Davies was admitted to University Hospital of Wales in Cardiff. He is currently undergoing tests at the neurosurgical unit.
"Everyone in Welsh Labour wishes him a speedy recovery."
Several get-well messages have appeared on Twitter.
Lifelong socialist
Labour MEP for Wales Derek Vaughan said his thoughts were with Mr Davies and his family, and wished the AM well.
Liberal Democrat AM Eluned Parrott wrote: "Prayers and best wishes to Keith Davies - get well soon."
Conservative AM Angela Burns described Mr Davies' ill health as sad and referred to him as "a nice guy", while Plaid Cymru AM Bethan Jenkins said her thoughts were with Mr Davies and his family.
Mr Davies qualified as a teacher before becoming a school inspector and subsequently became director of education for Mid Glamorgan and Carmarthenshire.
On his website, the father-of-two describes himself as a lifelong socialist "with a strong sense of community".
As well as joining the fight against plans to downgrade the accident and emergency department at Llanelli's Prince Philip Hospital, Mr Davies also backed a local campaign calling for banned substance mephedrone to be reclassified as a Class A drug.