Llandrindod Wells hospital back to normal after legionella found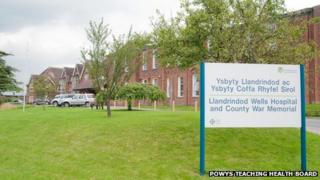 A hospital has re-opened to new admissions after part of its water system was found to contain legionella, which can cause Legionnaires' disease.
The bug was discovered at Llandrindod Wells Hospital in Powys around a fortnight ago following concerns over water quality.
Health officials said they would continue to monitor the water supply.
Bottled water was used for washing until the system was flushed through, said Powys teaching Health Board.
The board said the hospital returned to normal and opened to new admissions on Friday.
A board spokesman said: "We would like to thank all staff, patients and visitors for their patience during the recent disruption.
"We will continue to closely monitor the water supply to ensure patients, staff and visitors are not put under undue risks."
The legionella bacterium has the potential to cause Legionnaires' disease, which starts with flu-like symptoms and could lead to pneumonia.
Four cases of Legionnaires' disease are currently being investigated in Carmarthen.