First Cymru: Monday bus strike on in south, west Wales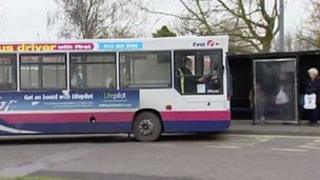 Bus drivers and engineers have rejected an improved pay offer from First Cymru.
It means a 24-hour strike will go ahead on Monday, affecting thousands of passengers in south and west Wales.
Members of the Unite union, who initially rejected a 5% pay rise over 15 months, have also turned down a new offer.
First serves Bridgend, Maesteg, Port Talbot, Neath, Swansea, Llanelli, Carmarthen and south Pembrokeshire, including Haverfordwest.
It also runs Excel services and the Swansea to Cardiff Greyhound coach service.
Gareth Jones, from Unite, said: "Our members rejected our recommendation to accept the offer and unfortunately the strike will go ahead on Monday."
He added that while the strike will take place, the union was still willing to hold further talks with First to find a resolution and avert further possible action.
'Incredibly disappointed'
Following the rejection of a 5% pay rise, Mr Jones said talks on Tuesday had made "significant progress" and a new offer was made, but the union's members rejected this on Thursday night.
First said it was "incredibly disappointed" by the strike action and all First depots would be affected but added that contract school services will be unaffected.
"The drivers and engineers are striking over pay, despite very good offers having been tabled by the company," said First general manager Simon Cursio.
"The action that the union is taking will cause undue disruption to hardworking people in south and west Wales, who rely on our services to get to work, education and leisure destinations.
School bus services running on Monday (PDF)
[9 KB]
He added: "With many people out of work and others facing pay freezes and tougher times, we are shocked and saddened that our drivers and engineers would turn down a pay offer which had the full support and recommendation of their union officials and which addressed the key concerns union members had with the original pay offer.
"We would like to offer our sincere apologies to our customers who will be inconvenienced by the action taking place."
Contracted school services and those journeys operated on a tendered basis on behalf of the local authorities will receive priority.
Drivers currently earn about £20,000 a year, with some earning up to £27,000.
Staff get 33 holidays including bank holidays and other benefits like free bus travel for themselves and their immediate families, reduced price train travel around the UK and access to discounts at some high street shops and leisure destinations.