New Zealand teachers visit Wales for Maori class tips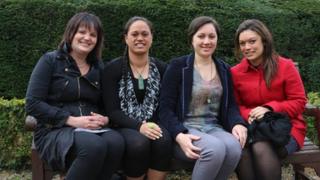 Four teachers from New Zealand have arrived in Wales to learn more about bilingual education in a two-week tour.
The visitors will take tips on how to boost Maori language lessons in their home country's schools.
Ingrid Leary, from British Council New Zealand, said the countries shared "a unique interest in the revival and survival of their first languages".
The New Zealanders will visit bilingual schools in Cardiff, Swansea, Llandudno and Wrexham and meet other groups.
The four teachers are visiting Wales under the Linking Minds Scholarship, a British Council-supported scheme giving young teachers in New Zealand the opportunity of international experience early in their careers.
The British Council says the theme for 2012 is professional leadership, with language immersion settings a key element of the programme.
The teachers - Piata Allen, Nichola McCall, Stacey Reriti-Smith and Vicki Exeter - will visit bilingual schools and meet other people including the Welsh Language Commissioner Meri Huws and representatives of the Urdd youth organisation.
Known in New Zealand as "te reo" [the language], the native Maori tongue began to decline with the arrival of white European settlers in the 19th Century.
By the 1950s there were fears that the language was dying out, but campaigns by Maori elders and government initiatives since the 1970s have resulted in a revival.
The launch and success of kohanga reo (Maori language nursery classes) led to the creation of Maori-medium primary and secondary schools.
Te reo was made an official language of New Zealand in 1987, and it is available as an optional subject in the curriculum for English-medium schools.
A survey in 2001 reported that 29,000 people - 9% of the Maori population - were fluent in the language, although in the 2006 census around 157,000 New Zealanders claimed they could use it in conversation.
Nichola McCall, 27, from Manurewa High School, Auckland, who is making her first visit to Wales, said: "I want to speak to community leaders, principals and teachers in Wales and find out how they manage to get that equality between the two languages.
"That's something that I want to bring back here [to New Zealand], and it's something that I'm really passionate about."
"I am a trained physical education teacher but because I was Maori I got roped into teaching te reo even though I am not fluent nor have I grown up speaking it.
"So being in the Maori department was a really good thing for me as it ignited my passion to try and ensure more equitable opportunities for Maori at Manurewa High School."
'Responsibility'
Vicki Exeter, from Palmerston North, said she learned te reo in high school and now taught the language in pre-school classes.
"I tailor my reo to suit, so for a child who has English as a second language and is new to New Zealand it could be less than for a Maori child who speaks some reo at home," she said.
"Some kohanga reo [pre-school classes] only take children who speak reo at home so learning between kohanga and home can be consolidated.
"I am not Maori, however I am committed to helping protect te reo and believe teachers have an ethical responsibility to do so."
The New Zealanders will visit bilingual schools mainly during the second week of their trip, including Ysgol Treganna in Cardiff; Gynradd Gymraeg Lon Las School in Swansea; Ysgol John Bright in Llandudno; and Plas Coch School in Wrexham.
Simon Dancey, director of British Council Wales, said the tour would give the visitors a valuable insight into bilingual education.
"These teachers will have an amazing opportunity to look at parallels between the education systems of New Zealand and Wales.
"They'll find out more about language immersion in Welsh schools and understand the role of the Welsh language in society as a whole.
"British Council prides itself on supporting links between leaders in education from across the world and this collaboration will help teachers from New Zealand further the development and implementation of te reo Maori teaching.
Ingrid Leary, director of British Council New Zealand, said: "New Zealand and Wales share a unique interest in the revival and survival of their first languages.
"The opportunity to swap stories, compare approaches, and form networks makes this an invaluable exchange for those charged with empowering the next generation of first language speakers in both countries."