Girl, 6, hurt in Barry: Driver may not know about collision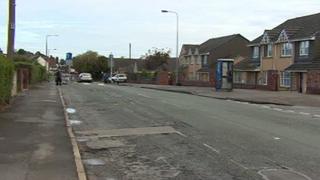 Police say a driver may not know about a collision with a six-year-old girl, who is in hospital with a head injury.
The girl suffered a serious head injury in the collision in Winstron Road, Barry, Vale of Glamorgan, and South Wales Police want to speak to the driver of a grey or silver car.
Officers are no longer working on the basis that the collision at 16:55 BST on Thursday was a hit and run.
The girl was flown to hospital and her condition is not life threatening.
Police want to speak to the driver of a grey or silver car, and believe the motorist may not know she was knocked over.
The car was said to be travelling at a "relatively slow speed". The driver did not stop and left the scene.
"Police believe that the driver may not be aware that the child had been knocked over but need to speak to that driver urgently," said a force spokesman.
Police also want to talk to the driver of a passing black car travelling in the opposite direction.
Earlier, police said they wanted to speak to the drivers of any grey or silver vehicles which may have been in the area at the time.
"The police would also like the assistance of the public in tracing any similar vehicles which may have sustained recent damage."
The Wales Air Ambulance said the girl was taken to specialist neurological unit at the University Hospital Wales in Cardiff.
She was initially said to be in intensive care.
South Wales Police said anyone with information should contact them on 101 - quoting incident number 654 of 27 September 2012 - or Crimestoppers on 0800 555 111.